All of Drake's theatre majors who are graduating with a bachelor of fine arts in spring 2014 have received paid work in their chosen field, reports Karla Kash, associate professor of theatre.
Kash shared the following graphic, which details the graduating students, their anticipated degrees, and the jobs they've landed immediately following graduation. (Click the image to enlarge.)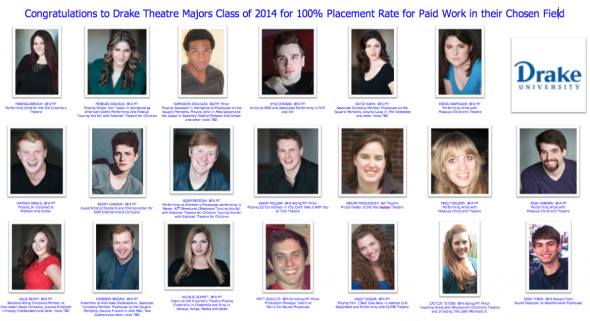 The graduates, and their jobs, are:
Marissa Broich, performing artist for the Old Creamery Theatre.
Morgan Daniels, playing Amber Von Tussle in Hairspray! at American Gothic Performing Arts, touring with National Theatre for Children in the fall.
Napoleon Douglas, playing Seaweed in Hairspray! at Playhouse on the Square Memphis, playing John in Miss Saigon, and the Judge in Sweeney Todd at Midtown Arts Center and other roles TBD.
Kyle Dvorak, hired by RWS and Associates, performing in NYC and NH.
Katie Hahn, associate company member Playhouse on the Square Memphis, playing Luisa in The Fantastics and other roles TBD.
Erika Hakmiller, performing artist with Missoula Children's Theatre.
Hayden Kraus, playing Sir Galahad at Midtown Art Center.
Kenny Lawson, guest artist at Danzarts and choreographer for DSM Entertainment Company.
Megan McQueeney, props master at the Mac-Haydn Theatre.
Adam Meirink, performing at Allenberry Playhouse, performing in Mame, 42nd Street, and OK!
Jason Millsap, playing Ed Carmicahel in You Can't Take It With You at Tent Theatre.
Molly Nelson, performing artist with Missoula Children's Theatre.
Josh Osborn, performing artist with Missoula Children's Theatre.
Cameron Reeves, ensemble at Nebraska Shakespeare. Associate company member, Playhouse on the Square Memphis, playing Francis in One Man, Two Guvnors and other roles.
Allie Reidy, resident acting company member. Playing Elizabeth in Young Frankenstein and other roles TBD.
Natalie Schmit, intern at Old Creamery Theatre, playing Cinderella in Cinderella and Nina in Vanya, Sonya, Masha, and Spike.
Matt Schultz, production manager intern at Merry-Go-Round Playhouse.
Iris Seaman (not pictured), pursuing a Master of Arts in Theatre at Long Island University.
Haley Sisler, playing Mrs. T/Bad Idea Bear in Avenue Q at StageWest and performing with CLIMB Theatre.
Caitlin Teters, teaching artist with Whipoorwill Children's Theatre and directing The Little Mermaid Jr.
Josh Tobin, sound designer at Weathervane Playhouse.
     — information courtesy Karla Kash
Drake awards bachelor of fine arts degrees in theatre acting, theatre arts, theatre design, theatre directing, and musical theatre. Students can also major in theatre arts with a teaching certificate, or minor in theatre.