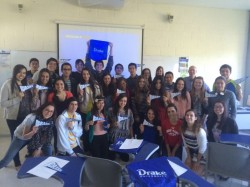 For years now, cohorts of students have opted to forgo tropical spring break vacations for service-learning experiences across the globe. But Drake is thinking big picture and cultivating partnerships around the world that extend far beyond a one-week opportunity.
Drake's strategic partnership with Tecnologico de Monterrey (Monterrey Tec) in Guadalajara, Mexico, dates back to 2010, when Drake played Monterrey Tec in the Global Kilimanjaro Bowl in Africa. Soon after, faculty and administrators began exploring academic opportunities between Monterrey Tec and Drake. The partnership—though just budding in 2010—seemed promising and has since flourished.
This spring break, four Drake students traveled to Prepa Tec—a preparatory school for Monterrey Tec—for an independent study project. The group began working with the students at Prepa Tec back in January through Jody Swilky's English 171: Teaching Writing: Theory and Practice course.
Drake has strategic partnerships with universities like Monterrey Tec in locations across the globe, including India, China, France, Uganda, and others.
"Last year, during a visit to Monterrey Tec where I have lectured and worked with students in scriptwriting classes since spring 2012, I met the directors of Prepa Tec's Departamento de Idiomas and Departmento de Programa Multicultural," says Swilky, Ellis and Nelle Levitt Distinguished Professor of English. "We began discussions about the possibilities for collaboration between classes of Advanced English students (at Prepa Tec) and Drake Secondary Education English majors. I saw it as an opportunity for future English educators to get hands-on teaching experience in a cross-cultural setting."
Swilky's semester-long course allows Drake students interested in pursuing careers in secondary education or writing the opportunity to interact and collaborate on projects with Prepa Tec's English language learners. They work with the students on a weekly basis through Blackboard on a semester-long writing project, providing feedback and mentoring the students through the process.
The independent study project, also coordinated by Swilky, allowed Stephanie Parks, Loan Nguyen, Paige Stickle, and Dana Swanson to meet the Prepa Tec students face-to-face and build on their work from throughout the semester.
Provost Jones has invited the group of Drake students to present to the Board of Trustees on April 25. The four students will share what they learned from working in a cross-cultural setting.
"I was able to apply what I've been learning in Professor Swilky's class and in my education classes to a real-life setting," says Stephanie Parks, a junior double majoring in secondary education and English. Parks and the other Drake students spent the week observing classes, delivering writing lessons, and talking one-on-one with the Prepa Tec students about academic opportunities in the U.S.
"This entire experience has been perfect for me as a future teacher," says Parks. "I was able to practice professional communication as well as learn to develop and implement lesson plans in a flexible and engaging way, which was incredibly valuable."
When the Independent Study students returned to campus, they delivered a presentation to the rest of their classmates, sharing the lessons they learned from working at Prepa Tec. The class will continue to work with the Prepa Tec students through the end of April.
Additionally, the four students were nominated and received the Exceptional Experiential Learning Award for the student group/class category. This honor is awarded annually at the Experiential Learning/Engaged Citizen Showcase in the spring. There are Exceptional Experiential Learning Awards for each category: faculty, staff, individual student, student group/class, and community partner. These awards are meant to formally recognize faculty, staff, students, and community partners who practice excellence in the area of experiential learning.
Darcie Vandegrift, associate professor of sociology and department chair, visited Tecnologico de Monterrey with Drake students for J-Term earlier this year. A second version of this J-Term is scheduled for January 2015. The course examined the social dynamics of urban Mexico through field site visits, guest lectures, critical readings, service-learning, and facilitated discussion and reflection.
Mandi McReynolds, director of community engagement and service-learning at Drake, says an ongoing partnership like the one Drake has with Prepa Tec and Monterrey Tec provides students a more personalized global experience and can lead to additional opportunities in the future.
"It's common for institutions to provide a one-week, cocurricular opportunity for its students," says McReynolds, "but extended course collaborations like these are something we see continuing long into the future."