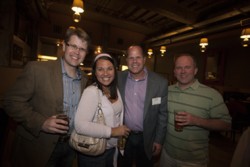 It's full speed ahead for the Drake Relays, and it should come as no surprise that the Office of Alumni Relations has packed the week with activities for Drake alumni and friends. From the alumni tent party to community events to downtown street painting, you'll find yourself with an abundance of opportunities to catch up with old friends and celebrate your favorite Drake traditions.
"Our goal as an office was to make the Relays events as inclusive as possible, which is why we created the Alumni Tent Party," explains Liz Tesar, assistant director for alumni relations. "We want all alumni to come socialize and celebrate Relays, regardless of graduation year."
The Alumni Tent Party will be held Friday, April 25, from 5 to 9 p.m. in the Olmsted parking lot. This free event will include Relays-themed games, a photo booth, live music, giveaways, and other surprises. Food and beverages will be available for purchase.
All alumni and friends of Drake are also invited to attend a dedication for the new Alumni House, which opened earlier this year. The dedication will be held at 2 p.m. at the Alumni House, 2700 University Ave.
The complete list of community events for the 2014 Drake Relays can be found below. For more information, contact Liz Tesar at elizabeth.tesar@drake.edu or 515-271-3378.
MONDAY, APRIL 21
Beautiful Bulldog Contest
10:30 a.m. Judging Begins
12–1 p.m. Program
Knapp Center
High Jump at Hy-Vee
6 p.m.
Waukee Hy-Vee
TUESDAY, APRIL 22
Grand Blue Mile
6 p.m.
13th and Locust streets, Downtown
WEDNESDAY, APRIL 23
Downtown Street Painting
1–4:30 p.m.
Court Avenue, Downtown
Happy Hour
5 p.m.
Court Avenue, Downtown
Weaver Medal of Honor
2 p.m. Lecture and Awards Ceremony, Sheslow Auditorium
3 p.m. Reception, Cowles Library
Pole Vault in the Mall
6:15 p.m.
Jordan Creek Town Center
THURSDAY, APRIL 24
Alumni Awards Ceremony
4 p.m. Reception
4:45 p.m. Ceremony
Reading Room, Cowles Library
Hall of Fame Induction Ceremony
6:15 p.m.
Sheslow Auditorium, Old Main
FRIDAY, APRIL 25
Drake Relays Track Events
8 a.m.–4 p.m.
Drake Stadium
Alumni Tent Party
5–9 p.m.
Olmsted Center Parking Lot
Hy-Vee Night at Drake Relays
5–9 p.m.
Drake Stadium
Court Avenue Celebration and Concert
8 p.m.–12 a.m.
Court Avenue, Downtown
SATURDAY, APRIL 26
Drake Relays Track Events
8 a.m.–5 p.m.
Drake Stadium
Young Alumni Brunch
10 a.m.–12 p.m.
Alumni House
D-Club Reunion
12–2 p.m.
Olmsted Parking Lot
Alumni House Dedication
2–4 p.m.
Alumni House
SUNDAY, APRIL 27
Hy-Vee Road Races at the Drake Relays
7:30 a.m. Hy-Vee Half Marathon
8 a.m. 10K Road Races
10:30 a.m. 5K Road Races
12 p.m. Awards Ceremony, Drake Stadium