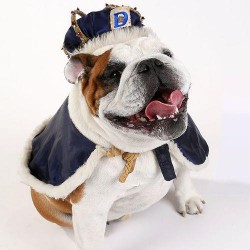 Think of it as the Westminster Dog Show—with a lot more doggy drool, celebrity impersonations by pups, elaborate dog/owner costumes, and a pageant exclusively consisting of English bulldogs.
On April 21, Drake University in Des Moines, Iowa will host its 35th Annual Beautiful Bulldog Contest in the Drake University Knapp Center. Fifty English bulldogs are in the running for this year's contest, all in hopes of being crowned the 2014 Drake Relays' official mascot. With names like Linus the LoveBug, Sweet Sassy Molassy, Otis Campbell, and Mr. Mojo Rizen, this year's contest guarantees to be full of personality.
Judging will begin at 10:30 a.m. with the contest to follow at noon. Admission is free. The contest will also be streamed live online at alumni.drake.edu/beautifulbulldog.
The contest has partnered with a number of bulldog rescue organizations, including the Illinois English Bulldog Rescue, Furry Friends Refuge, the Humane Society of Perry, Animal Lifeline of Iowa, and AHeinz 57 Pet Rescue and Transportation.
"Moving the contest to The Knapp Center affirms the University's commitment to raise the Beautiful Bulldog Contest to a new level," says Michael Cigelman, associate athletic director and co-director of the Beautiful Bulldog Contest committee. "I hope that the Beautiful Bulldog Contest will be a vehicle to help increase the visibility of Drake University and the Drake Relays as well as raise awareness of bulldog rescue organizations."
Media can access the event beginning at 10:30 a.m. A mult box will be available and a press conference with the winner will occur immediately follow the contest.
Doors open at 9:30 a.m. for both the public and the participants. Concessions will be available from 10:30 a.m. – 1 p.m.
Visit http://alumni.drake.edu/s/1287/relays/index.aspx?sid=1287&gid=2&pgid=1375 to see a complete list of competitors.
For more information, contact Mike Cigelman at michael.cigelman@drake.edu or 515-271-3810.