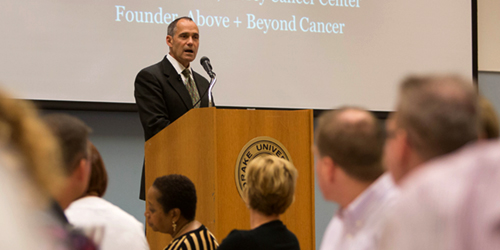 A highlight of the undergraduate commencement ceremony at Drake University on Sunday, May 18 at 10 a.m. will be the presentation of an honorary degree to Dr. Richard Deming, medical director at Mercy Cancer Center Radiation Oncology and medical director of the CyberKnife Radiosurgery Center of Iowa. Deming was nominated for this honor in recognition of his multi-dimensional work—in medicine, philanthropy, writing, and travel—all of which reflect the values of Drake University.
"Dick Deming is truly one of the most remarkable people whom I've ever met," says Drake University President David Maxwell."His vision, energy and generosity of spirit are inspiring—spending time with Dr. Deming is, by definition, an uplifting experience. Through his work as a physician, founder of Above + Beyond, philanthropist and community volunteer, Dick has enriched the lives of thousands, and it is an honor for Drake University to be able to recognize his accomplishments with the award of this degree."
Drake has been honored to work with Deming in variety of capacities. Deming helped to financially support The Comparison Project at Drake University for 2012-2013, which is a series of scholarly lectures and events focused on religious topics. Deming also serves on the board of the Drake University Center for the Humanities.
For a number of years, Deming has supported medical education at Drake by offering opportunities for undergraduate students to shadow him at Mercy Medical Center in Des Moines. Deming has excelled in his professional life as a radiation oncologist at Mercy Medical Center and founder of Mercy's Cancer Center.
Deming is also the founder of Above + Beyond Cancer, a foundation whose mission is to help cancer survivors take control of their lives. He has collaborated with several members of the Drake community, including Judith Allen, professor of psychology, and Yasmina Madden, visiting assistant professor of English, to provide travel, writing, and public speaking opportunities for Above + Beyond Cancer activities.
An active leader in his profession and the community, Deming has helped lead lobbying efforts aimed at educating elected officials on health policy and cancer issues. He is president of the Iowa Society of Therapeutic Radiology, is part of the Expert Panel on Radiation Oncology for the American College of Radiology, and serves on many other state and regional advisory organizations in the fields of cancer research and treatment.
Deming was selected by the Honorary Degree and Drake Medal Committee, approved by the Faculty Senate and Board of Trustees.
For more information, contact Linda Ryan at linda.ryan@drake.edu or 515-271-2147.