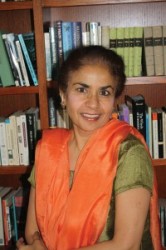 The final event for The Comparison Project this semester will be on Thursday, April 10 at 7 p.m. in the Cowles Library Reading Room.
The lecture, "Expressing the Inexpressible: The Heartbeat of Sikh Mysticism" by Nikky-Gunider Kaur Singh, Crawford Family Professor of Religion at Colby College uses the "beat of the heart" as a metaphor to help listeners understand the complexities of Sikh mysticism.
Professor Singh has published extensively in the field of Sikhism. She has appeared on television and radio in America, Canada, England, India, Australia, and Bangladesh.
Born in India, Professor Singh came to America to attend a girls' preparatory school in Virginia. She earned a B.A. in philosophy and religion from Wellesley College, and a B.A. from the University of Pennsylvania. Later, she earned her doctorate from Temple University.
The Comparison Project is sponsored by Drake University Humanities Center, Humanities Iowa, The Medbury Fund, The Principal Financial Group Center for Global Citizenship at Drake University, Des Moines Area Religious Council, and Cultivating Compassion: The Richard Deming Foundation.
Visit www.comparisonproject.wordpress.drake.edu or email comparisonproject@drake.edu for more information.