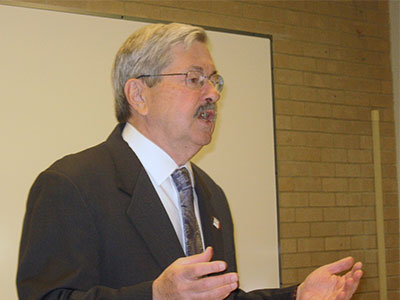 Gov. Terry Branstad told Advanced Reporting students Iowa operates an "honest, open, responsive" government. During a 40-minute visit to Meredith Hall, the governor said "The state's financial house is in order" and the unemployment rate has dropped from 6.1% to 4.4%.
The 5-term governor appeared at the invitation of adjunct instructor Mike Glover, retired AP political reporter. Branstad is running for another 4-year term on the Republican ticket.
Raised on a farm near Leland, in extreme Northern Iowa, his career has included financial advising, private law practice, three terms in the Iowa House of Representatives, a term as lieutenant governor and, most recently, the presidency of Des Moines University, the state's osteopathic medical college.
The governor said two Drake Law students initially urged him to return to politics. "The hardest one to convince (about the pay cut) was my wife," said Branstad, who still visits DMU's Wellness Center for which he raised construction funding.
Branstad said he's keeping an open mind on whether to support a freshened effort to legalize a marijuana oil extract to treat Epilepsy. The drug would require a prescription. His main concern is "a whole lot of unintended consequences."
Branstad said he's  spoken with Utah's governor and plans to seek advice from Alabama's governor, a physician, telling student reporters he never promises to veto or to sign a bill until he sees the final form.