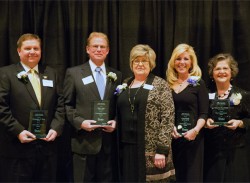 Hundreds of students graduate from Drake's School of Education (SOE) every year, all with extraordinary training designed to help them achieve personal and professional success as educators and educational advocates.
The Alumni Awards Dinner, a longstanding tradition for SOE, brings together Drake alumni, students, faculty, and friends to honor remarkable alumni and celebrate the graduating class of 2014. Attendees have the opportunity to network with other professionals in the field and listen to inspirational stories.
Four alumni were honored at this year's dinner on March 25. The awards' selection committee consisted of the Dean's Council, including SOE Dean Jan McMahill, and Meaghan Tigges, advancement officer for SOE.
"We look for graduates who are recommended and admired by their peers for their teaching, counseling, or organizational leadership," says McMahill.
Eligible nominees are Drake alumni who are teachers, administrators, counselors, public servants, and/or friends of SOE. Non-Drake alumni are considered for the Excellence in Education award, which is also recognized at the dinner.
"When we review the applicant pool, we are looking for everyday heroes," explains McMahill. "They come to work early and stay late. They not only do their jobs, but also make a different in the lives of those they feel honored to serve. They embody what we call 'the Drake difference,' and work to encourage others to join our ranks."
The 2014 SOE Alumni Achievement Award recipients are as follows:
Molly Mc Ilhon House, ED'70, GR'84, an adjunct instructor in Drake's School of Education, has been an educator and administrator for 43 years including 29 years teaching at the elementary level. Although officially retired, Mc Ilhon House is active in the community, continuing her work as a literacy expert. She was instrumental in creating and supporting the Literacy Army—a group that tutors students across Central Iowa in reading—training about 1,200 volunteers throughout the area. Her other service engagements include the United Way, Everyone Wins! Iowa, and I Have a Dream Foundation.
Christopher Olson, GR'10, is the national training supervisor for the Department of Veterans Affairs, where he is responsible for the administration, oversight, and daily operations of the Veterans Benefits Administration. He received his Master of Science in Rehabilitation Counseling from Drake in 2010 and is a former U.S. Navy SEAL. Olson's dedication to his country and to supporting veterans has been recognized through three Navy and Marine Corps Achievement Medals for performance and initiative and the Military Outstanding Volunteer Service Medal.
Carol Seid, ED'87, GR'96, is the interim associate superintendent of human resources for West Des Moines Community Schools and has been in education for 27 years. She received her bachelor's, master's, and principal licensure from Drake, and is currently pursuing her Specialist in Educational Leadership at Drake as well. Seid is a thought leader in the area of educational leadership, participating in the National School Administrator Manager Innovation Project and the School Administrators of Iowa Principal Leadership Academy.
Steve Seid, GR'88, '96, is the principal and athletics director at Keota Junior Senior High School. He received his master's and specialist degrees from Drake and has been an educator and administrator for 29 years. Seid is a leader in the education community, participating in groups and initiatives such as the National Association of Secondary Principals, School Administrators of Iowa, and the National School Administrator Manager Innovation Project. He also volunteers at Drake, conducting mock interviews for students in the School of Education.
For more information, contact Meaghan Tigges at 515-271-4843 or meaghan.tigges@drake.edu.