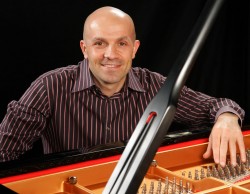 Drake University's Keys to Excellence Piano Concert Series will conclude on Monday, March 31 with a performance by Anthony Molinaro, featuring the iconic music of the Beatles. The concert, which is free and open to the public, will take place in the Patty and Fred Turner Jazz Center on Drake University's campus at 7:30 p.m.
In 1997, Molinaro won the Naumburg International Piano Competition in New York City, and since then his extraordinary performances have allowed him to travel the country, performing in Boston, Cleveland, Dallas, Indianapolis, Los Angeles, Miami, Philadelphia, New York's Alice Tully Hall, and Chicago's Symphony Center, as well as throughout Europe and Canada. In addition to being a stunning performer, Molinaro is also a talented arranger, composer, and improviser.
Molinaro founded the record label Nineteen-Eight Records in 2001. He recently recorded Here, There and Everywhere, a solo album focused on Beatles music.
Molinaro is a Chicago native and currently serves as an associate professor of music at Loyola University. When class is not in session, Molinaro coordinates a music program for physically challenged children in South Hampton, New York.
The Keys to Excellence Piano Concert Series was created to raise awareness of Drake's fundraising efforts to purchase 70 new Yamaha pianos for the music department. The series features internationally acclaimed artists performing on the magnificent Yamaha CFX concert grand, an instrument that debuted in 2010 to rave reviews for its revolutionary sonorous clarity and extensive tonal range.
The Yamaha CFX was recently purchased for Drake University through the generous support of Sally B. Bartlett, who was recognized at a concert on Dec. 8, 2013.
The series is sponsored by Yamaha, West Music, Civic Music Association, and Drake University.
For more information, contact Nicholas Roth at 515-271-2857 or nicholas.roth@drake.edu.