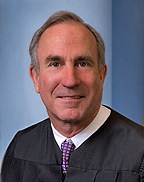 The Iowa Supreme Court's decisions are often based on the state constitution, but the U.S. Supreme Court's cases are often based on the U.S. Constitution. This difference permits interesting divergences. On Thursday, March 27, Drake University will welcome Justice Brent R. Appel of the Iowa Supreme Court for the third annual James T. Grant Iowa Constitution Lecture to discuss some of the significant cases in the Iowa Supreme Court's history and offer insight on current and future issues that may arise.
The lecture, which is free and open to the public, will begin at 3 p.m. in Cartwright Hall, Room 206.
Appel has an impressive judicial and legal background and is an expert on the Iowa Constitution. He was appointed to the Iowa Supreme Court in 2006, and currently serves as chair of the Iowa Children's Justice Council. In 2010, Justice Appel was appointed by United State Supreme Court Chief Justice John Roberts to serve as a member of the Federal Advisory Committee on the Rules of Evidence. He was reappointed to the committee in 2013.
A Dubuque native, Appel received his bachelor's and master's degree from Stanford University and his law degree from the University of California, Berkeley. Following graduation from law school, Appel served as a court law clerk for the United States Court of Appeals for the District of Columbia Circuit. In 1979, Appel was appointed Iowa First Assistant Attorney General and, in 1983 became Iowa Deputy Attorney General. While serving in the Iowa Attorney General's office, Appel argued and briefed four cases before the United States Supreme Court, including the second "Christian burial case", Nix v Williams. From 1987 to his appointment in 2006, Appel was engaged in private practice in central Iowa.
The James T. Grant Iowa Constitution Lecture Series is organized by the Drake University Constitutional Law Center. The series is in its third year, featuring prominent experts on the topic of the Iowa Constitution. Chief Justice Cady and Professor Sandy Levinson have served as previous speakers in the series.
For more information, contact Mark Kende at mark.kende@drake.edu or 515-271-2824.