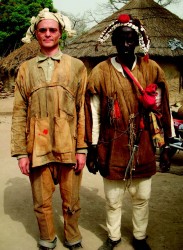 On March 27, The Comparison Project is hosting Joseph Hellweg, associate professor of religion at Florida State University, who will discuss how hunters communicate with the dead in Côte d'Ivoire (Ivory Coast). This event, which is free and open to the public, starts at 7 p.m. in the Cowles Library Reading Room.
A cultural anthropologist by training, Hellweg completed more than five years of field research in Côte d'Ivoire, Guinea, and Mali. His first book, Hunting the Ethical State: The Benkadi Movement of Côte d'Ivoire, chronicled a security movement manned by West African hunters. He is now writing his second book titled, Practical Religion: Hunting, Islam, and the Poetics of Action in the Songs of Dramane Coulibaly; it examines the praise-songs and epics that hunters sing. He has also written a book in French on anthropological research methods. More recently, he has been studying the African-invented N'ko alphabet in Guinea and Mali. His article on the literacy movement linked to this alphabet appeared in the collection, Living the City in Africa. He conducts his research in French and Malinké, which he speaks fluently.
The Comparison Project is an experimental effort in a philosophy of religion that is historically grounded and religiously diverse. It is generously supported by the Drake University Humanities Center, Humanities Iowa, the Medbury Fund, the Drake University Principal Financial Group Center for Global Citizenship, the Des Moines Area Religious Council, and Cultivating Compassion: The Richard Deming Foundation.
For more information on The Comparison Project:
• Visit The Comparison Project: www.comparisonproject.wordpress.drake.edu
• Join the email list: www.lists.drake.edu/mailman/listinfo/comparisonproject
• 'Like' on Facebook: www.facebook.com/drakecomparison
• Follow on Twitter: @drakecomparison
• Email The Comparison Project: comparisonproject@drake.edu