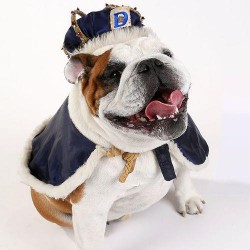 At a public lottery on Tuesday, March 25, Drake University will select 50 contestants and five alternates for its 35th Annual Beautiful Bulldog Contest.
Nearly 80 English bulldogs are in the running for this year's lottery, all in hopes of being crowned the official mascot for the 2014 Drake Relays. With names like Nugget, Linus the LoveBug, Roxie, Sugar Blossom, Blue Boy Biggie "Smallz," and Titus Maximus, this year's contest is already full of personality.
The lottery will begin at 6 p.m. on the Pomerantz Stage in Drake's Olmsted Center, 2875 University Ave. Huckleberry, the reigning 2013 Relays mascot, will be present for the lottery, showing off his cape and crown while his royal subjects drool in envy.
The lucky lottery winners will advance to the official Beautiful Bulldog Contest on Monday, April 21 at the Drake University Knapp Center. Judging will begin at 10:30 a.m. with the pageant to follow at 12 p.m.
Additional facts about this year's registrants:
• Roxie is a cancer survivor and underwent two neck surgeries.
• Linus the LoveBug enjoys tap dancing and eating green beans.
• Guster is Porterhouse's foster brother. Porterhouse served as Drake University's official live mascot from 2009 until his passing in December 2013.
• Bella is active on Twitter @bulldogbella.
• Sugar Blossom has worked at a kissing booth.
Not in Des Moines? The lottery will be available via live stream at www.GoDrakeBulldogs.com.
For more information, contact Mike Cigelman at 515-271-3810 or michael.cigelman@drake.edu.