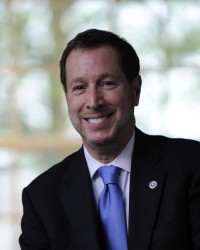 Drake University President David Maxwell announced today that he plans to retire on June 30, 2015, capping a 16-year tenure marked by significant improvements in the University's national stature, academic profile, financial position, and strategic direction.
"David Maxwell's leadership transformed an already highly respected university into an even more remarkable place to live, work, and study," said Drake University Board of Trustees Chair Larry Zimpleman, BN '73, GR '79. "From my perspective as a trustee, his greatest strength is as a clear-sighted strategist who tackles tough issues head-on, shows remarkable candor, and is able to collaborate with faculty, staff, and administrators to find a clear path forward for the University. As a result of his strategic leadership, Drake has seen significant growth in student enrollment, faculty achievement, philanthropy, and campus amenities during his career."
Maxwell took office as Drake's 12th president on May 15, 1999. By the time he steps down next year, he will have served in the role longer than any of his predecessors, with the exceptions of Daniel Morehouse (1922−1941) and Henry Harmon (1941−1964).
"Drake University is a remarkable institution, an institution that lives its values and its mission," said Maxwell. "It's a place where very special things happen, where students launch themselves on the path to making their dreams come true with the enthusiastic support and guidance of committed faculty and staff. Maddy and I recognize with great appreciation how truly fortunate we have been to be part of this community for the last 15 years."
Under Maxwell's leadership, the University's endowment has grown from $80 million to $185 million. Maxwell also led to completion a $190-million comprehensive fundraising campaign, Campaign Drake—Think of the Possibilities, and is well on his way to completing Drake's second campaign under his leadership, the $200 million distinctlyDrake.
"You can't have a great city without a great university, and President Maxwell has ensured that we have both," said Bill Knapp, a Drake trustee for nearly 40 years. "He has done a terrific job of reaching out to the business community, of recruiting, and of fundraising. Every step of the way, he's reminded this community of the vital importance of Drake University."
During Maxwell's tenure, the University implemented four strategic plans, constructed and renovated numerous buildings, and significantly increased the number of endowed faculty positions and scholarships.
Over the past 15 years, the University has set records for student applications and enrollment while at the same time raising the overall academic profile of the student body. Annual applications for admission have increased nearly 177 percent to 6,276. The average ACT score of incoming students has increased from 25.3 to 27, and the average high school grade point average has grown from 3.5 to 3.71.
On the academic front, Drake has increased the number of full-time faculty positions by 11 percent since Maxwell arrived. The University has also launched 18 new majors and 13 new minors since 1999. New majors include programs in health sciences; entrepreneurial management; law, politics, and society; and news-internet. The University has also expanded study abroad opportunities, internships, and student research opportunities during that time.
The University has experienced a dramatic expansion of global and international education under Maxwell's leadership, including the creation of The Principal Financial Group Center for Global Citizenship, the Nelson Institute for Diplomacy and International Affairs, and the vice provost for international programs position. The Center for Global Citizenship has been strengthened with more than $6 million in funding.
Maxwell established a position as a prominent thought leader in academia, serving on the governing boards of the American Council on Education, the Association of American Colleges & Universities, the Council for Higher Education Accreditation, and the National Association of Independent Colleges and Universities. As a member of the executive committee for the Business-Higher Education Forum, Maxwell has worked closely with Fortune 500 CEOs and other prominent college and university presidents to advance innovative education and workforce solutions and improve U.S. competitiveness.
Since arriving at Drake in 1999, Maxwell has continued to publish and present on issues impacting higher education. Articles he has authored or co-authored have appeared in publications including: The Presidency, Inside Higher Ed, The Huffington Post, Peer Review, and Trusteeship. He has also presented or delivered keynote addresses at conferences including those organized by: the American Council on Education, the Council of Colleges of Arts & Sciences, the Council on International Educational Exchange, NAFSA: Association of International Educators, the Association of American Colleges & Universities, the Ford Foundation, the Business-Higher Education Forum, and the Council of Independent Colleges. He has been an invited participant at conferences organized by: the White House, the Secretary of Education, the Secretary of State, and the National Center for Public Policy and Higher Education (co-sponsored by the Bill & Melinda Gates Foundation, and the Lumina Foundation).
Over the next 16 months, Maxwell and the University will focus on meeting strategic plan goals, including: the completion of the distinctlyDrake comprehensive campaign; launch of the STEM@DRAKE project; introduction of new undergraduate, graduate, and professional/executive programs that are currently in development; implementation of a stable and sustainable financial model; and presenting evidence that the University is operating at the highest level of efficiency, effectiveness, and service in its administrative operations
Prior to Drake, Maxwell served as director of the National Foreign Language Center in Washington, D.C., from 1993 to 1999, and as president of Whitman College in Walla Walla, Wash., from 1989 to 1993. He taught Russian language and literature at Tufts University from 1971 to 1989, and served as the university's dean of undergraduate studies from 1981 to 1989. He is a graduate of Grinnell College and received his M.A. and Ph.D. from Brown University.
David Maxwell is married to Madeleine Mali Maxwell. As the president's spouse, Maddy has worked tirelessly—essentially as a full-time volunteer—to bring the campus and community together in as many diverse and imaginative ways as possible. She has made the President's Home a hub of Drake activity; to date, more than 13,000 students, faculty, staff, alumni, members of the community, and visitors from around the world have attended events, both large and small, at their home. She has been and continues to be very active in Des Moines, sharing her enthusiasm and talents with a broad range of nonprofit and community service organizations. In 2009, the Des Moines Business Record named her a Woman of Influence.
The Maxwells have two sons: Justin, a user experience guru in Silicon Valley; and Stephen, a physicist at a national laboratory. They are expecting their first grandchild in May.
Quotes from higher education leaders 
"David Maxwell has served Drake University for 15 years with extraordinary skill and dedication to students, faculty, and the wider Des Moines community," said American Council on Education (ACE) President Molly Corbett Broad. "David's successor will take the helm of an institution that is strong academically and financially—and well-positioned to educate future generations of students. In addition to his profound impact on Drake, David has provided national leadership to ACE and the entire higher education community with his advocacy efforts on behalf of expanding the pipeline of students who have access to a postsecondary education."
"David Maxwell has made contributions to higher education in the United States that extend well beyond the confines of a single institution. David's service to the AAC&U community—through the board of directors, the LEAP Presidents' Trust, and the LEAP National Leadership Council—has been exemplary," said Carol Geary Schneider, president of the 1,300-member Association of American Colleges & Universities (AAC&U). "Both practical and visionary, David has provided the kind of forward-thinking, creative, and concerned leadership that higher education needs."
"In my 21 years representing 1000 private colleges and universities on federal policy matters, I count David Maxwell among the most distinguished presidents in the country," said David L. Warren, president of the National Association of Colleges and Universities (NAICU). "As a member of the NAICU Board, David has taken the leadership role on policies that protect and improve our institutions. He has been wise in his counsel to the NAICU Board, and adroit in his advocacy efforts to enhance federal student aid, to roll back inappropriate regulations, and to preserve the exempt tax status of independent higher education. Only a very, very few presidents have done so much and so well, for so many. With David's retirement we will lose a great president of Drake University, but retain a great colleague and friend of private higher education."
Drake's Accomplishments During David Maxwell's Tenure
Leadership:
Implemented four strategic plans

Developed new mission (2001, 2002) and vision statements (2001)

Represented Drake at national summit at White House College Opportunity Summit (2014)
Secured University-wide accreditation (2008)
Effectively lead program review, ultimately leading Drake from a $6.5 million operating deficit to more than a decade of balanced budgets (2000)
Well Workplace Awards from the Wellness Councils of America (Gold, 2009, 2006; Silver, 2006; Bronze, 2000)
"Great Colleges to Work For" designation from The Chronicle of Higher Education (2008, 2009, 2012)

Represented Drake on multiple regional and national boards and associations (* denotes current member)

Association of American Colleges and Universities (AAC&U)

National Leadership Council for the Liberal Education for America's Promise (LEAP) Initiative* (AAC&U)

American Council on Education
National Association of Independent Colleges and Universities*
Council for Higher Education Accreditation*
Business/Higher Education Forum Executive Committee*
Capital Crossroads Implementation Steering Committee*

Co-chair, sub-committee on education for human capital committee*
Neighborhood Improvement Task Force

Conference Board—education associate

Council on Economic Development*

Council on Foreign Relations—Higher Education Working Group on Global Issues*

Des Moines Higher Education Collaborative

Downtown Community Alliance*

Governor's Healthiest State Initiative, Co-chair of Life-Long Learning sub-committee*

Greater Des Moines Committee*

Greater Des Moines Partnership

Iowa Association of Independent Colleges and Universities* (served 2 terms as chair)

Missouri Valley Conference, chair of Presidents' Council*

Peer Review—editorial board

United Way of Central Iowa, 2013 Campaign Cabinet

Wells Fargo Bank Iowa/Illinois Community Board*
Maddy Maxwell, spouse of the president, has also lent her talents to a number of nonprofit organizations during David's tenure, including:
American Heart Association's Go Red for Women (founding committee)
American Heart Association's Heart Ball
Animal Rescue League of Iowa's advisory council
Arthritis Foundation
AViD (Authors Visiting in Des Moines) steering committee
Bras for the Cause board
Des Moines Community Playhouse
Friends of Drake Arts steering committee
Habitat for Humanity's Women Build
The Homestead board
Iowa Department of Cultural Affairs Celebrate Iowa committee
Positively Iowa 1-2-3
Buildings/Major Renovations:
Alumni House (2014)
Basketball Practice Facility (2014)
Morgan E. Cline Atrium for Pharmacy and Science (2013)
Renovation of Cartwright Hall (2013)
Cowles Library University Archives (2013)
Cowles Library 24-hour study space (2012)
Fred and Patty Turner Jazz Center (2011)
Renovation of Bulldog Theater to Sussman Theater (2012)
Underground Fitness at the Olmsted Center (2012)
Campus Signage and Way-finding (2011−2012)
Renovation of Hubbell North Dinning Hall—the University's first LEED certified building (2010)
Renovation of Harvey Ingham Lecture Hall (2010)
Converted 28th Street into a sustainable pedestrian walkway (2009)
Drake West Village (2008)
Renovation of the Quads residence halls (2007−2008)
Kraige Newell Interactive Media Lab in Meredith Hall (2007)
Renovation of Cole Hall (2007)
Renovations to Morehouse and Jewett Halls (2006−2007)
Renovation of Olin Hall (2006)
Renovation of Drake Stadium (2005)
Renovation of Pomerantz Student Union (2004)
Helmick Commons (2002)
Academic Programs:
Brought the Tom Harkin Institute for Public Policy and Citizen Engagement to Drake (2013)
Created partnership with Iowa's Department of Cultural Affairs to archive and display portions of Gov. Robert Ray's gubernatorial papers (2013)
New academic programs in health sciences, financial management, communications, and entrepreneurial management
New Law School endorsements
New Law School 3+3 programs
Global partnerships – exchange relationships with Germany, China, Austria, Italy, Japan, India, and others
Instituted 3-week January-Term

 
Philanthropy:
Created a culture of philanthropy at Drake, including the nationally recognized Philanthropy@Drake Week
Grew institutional endowment from $80 million to $185 million
Lead distinctlyDrake, a $200 million comprehensive campaign that has so far secured more than 50 individual gifts of $1 million or more
More than 100 newly created scholarship funds since 2008
More than $25 million since 2008 to enhance teaching and learning, of which approximately $20 million went toward the endowment
$8.8 million in six months for the Basketball Practice Facility (2013)
$15 million in funding for the renovation of Drake Stadium, which has led to the stadium's selection as site for the NCAA Outdoor Track and Field Championships in 2008, 2011, and 2012, and the USA Outdoor Track & Field Championships in 2010 and 2013 (2005)
Successfully closed $190 million Campaign Drake—Think of the Possibilities (2002)
More than $6 million from multiple donors including $2.5 million from The Principal Financial Group in 2011 to create The Principal Financial Group Center for Global Citizenship (2002)
Attended nearly 2,500 alumni events
Attended over 100 campaign events during the distinctlyDrake campaign
Admission:
Since 1999, applications have grown nearly 177%, from 2,267 to 6,276
Average first year enrollment in the 15 years prior to Maxwell's tenure was 770; during his tenure it has been 822, including 847 over the last five years
The incoming class ACT average in 1999 was 25.3; last year it was 27
The incoming class high school GPA in 1999 was 3.50; last year it was 3.71
Maxwell has been a prolific speaker for the admission office, having delivered:

150 welcome addresses during Iowa Private College Week

120 welcome addresses at Campus Preview Days and Admitted Student Days

40 addresses at Legacy Breakfasts
30 School Spirit Night addresses at the National Alumni Scholarship competition
30 luncheon addresses at the National Alumni Scholarship competition
Awards:
National Association of Student Personnel Administrators Region IV President's Award (2013)
Greater Des Moines Leadership Institute A. Arthur Davis Distinguished Community Leadership Award (2012)
Character Counts in Iowa Robert D. Ray Pillar of Character Legacy Award (2012)
Council for Advancement and Support of Education District VI Chief Executive Leadership Award (2011)
Miscellaneous:
Maxwell and his wife Maddy have hosted thousands of students at their home
Played blues guitar at commencement, alumni events, student events, and community events
Summited Mt. Kilimanjaro with the football team and engaged in service projects in Tanzania (2011)
Instituted initiatives with the greater Des Moines community through the creation of a new position in his office aimed at forging strategic partnerships
Increased Fulbright awards and Rhodes Scholarship awards, including four students earning Fulbright awards in 2013.
Hosted nationally-televised Democratic (2007) and Republican (2007, 2011) presidential debates
Presidents and Chancellors of Drake University 1881−2015
Dr. George Thomas Carpenter*
President: 1881−1882
Chancellor: 1882−1893
Dr. Barton O. Aylesworth*
Acting Chancellor: 1894−1897
Dr. William Bayard Craig*
Chancellor: 1897−1902
Dr. Hill McClelland Bell*
Vice Chancellor: 1902−1903
President: 1903−1918
President Emeritus: 1918−1927
Dr. Arthur Holmes
President: 1918−1923
Dr. Daniel Walter Morehouse
Acting President: 1922−1923
President: 1923−1941
Dr. Henry Gadd Harmon
President: 1941−1964
Dr. Paul Frederick Sharp*
President: 1966−1971
Dr. Wilbur C. Miller
President: 1972−1985
Dr. Michael Ferrari
President: 1985−1998
Dr. Robert D. Ray*
President: 1998−1999
Dr. David Maxwell
President: 1999−Present
* Honorary Doctorates