Every spring, the Drake University College of Pharmacy and Health Sciences honors extraordinary alumni as part of its annual College of Pharmacy and Health Sciences Day.
The Alumni Achievement Awards are given to graduates of the college who have excelled in one or more of the following areas: service to the college, distinction in their career, and recognized civic and community contributions.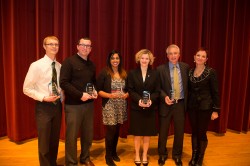 The 2014 Alumni Achievement Award recipients are:
Tarannum Qureshi, PH'02
Qureshi remembers listening to a Geoff Wall lecture in Cline 206 that changed her career focus from community pharmacy to clinical pharmacy. Another class that helped shape her career was a 2-credit HIV elective course, which ignited interest in international public health. Upon graduation in 2002, she landed the position of clinical pharmacist at Children's Memorial Hospital in Chicago. For more than six years, she worked as an HIV specialist at Children's. The hospital was recently renamed the Ann and Robert H. Lurie Children's Hospital, and Qureshi is now serving in dual roles as the lead investigational drug pharmacist as well as an HIV specialist.
Joshua Sandquist, PH'02
Sandquist graduated from Drake with a B.S. in pharmaceutical sciences. He arrived at Drake intending to be pharmacist, but a summer research internship with Mark Vitha led him down a different career path. After his research internship, he began tutoring students in math and chemistry, recognizing he had a true passion for the math and sciences. In 2008, Sandquist completed the degree requirements for a Ph.D. in pharmacology and cancer biology from Duke University. Following his time at Duke, Sandquist completed four years of post-doc fellowship work with Bill Bement at the University of Wisconsin-Madison where his research focused on frog embryos to investigate the role of myosin-10 in the fundamental process of mitosis. In 2012, Sandquist accepted an offer to teach at Grinnell College as an assistant professor of biology. He loves the courses he is teaching and the interaction he has with students.
Katie Suda, PH'99
Upon graduation from Drake, Suda completed a pharmacy practice residency at Baptist Memorial Health Care in Memphis, as well as an infectious disease and outcomes research fellowship at the University of Illinois Chicago. She later earned her master's degree in epidemiology from the University of Tennessee. Suda began her career as coordinator of medication use policy and information at Baptist Memorial Health Care in Memphis. Because this position involved working with students and residents during their clinical experiences, Suda realized she loved teaching and research and wanted to pursue a career in academia. Suda speaks fondly of Raylene Rospond for teaching her about data, database trends, and research. Suda currently works in clinical pharmacy research with the Veterans Affairs Center for Management of Complex Chronic Cases, and as an associate professor at the University of Illinois, Chicago. She shared that one of the most rewarding aspects of her current career is the pride she feels when her students complete their research projects and when their manuscripts are selected for publication.
Bob Egeland, PH'79
Egeland has been a proud supporter of both Drake University and Hy-Vee for more than 30 years. His long career with Hy-Vee began at the age of 15 when he worked at the Hy-Vee Distribution Center in Chariton, Iowa. Since graduating from Drake, Egeland has worked at Hy-Vee in a variety of roles, including pharmacist, pharmacy manager, and director of pharmacy operations. He currently serves as vice president of pharmacy and is a company officer for Hy-Vee, overseeing 244 pharmacies and 945 pharmacists. He has also been involved with the National Association of Chain Drug Stores as chair of the 2009 Pharmacy and Technology Conference. He has also served on the board of trustees for the Iowa Pharmacy Association. At Drake, he's been involved with the Drake University National Advisory Council and the pharmacy admissions committee. Most recently, he was involved with gaining Hy-Vee's support to develop the Hy-Vee Student Learning Commons in Drake's new Morgan E. Cline Atrium for Pharmacy and Science.
Justin Rash, PH'05, is the recipient of the 2014 Young Alumni Achievement Award. When Rash started his undergraduate career at Drake, he did not intend to study pharmacy. It wasn't until he met with Renae Chesnut that he became interested in pursuing a career in pharmacy. He was later influenced by Kristin Meyer when he had the opportunity to explore geriatric care during his P4 rotation. Rash found his passion caring for patients who are amongst the most complex and vulnerable in the health care system. As lead consultant pharmacist for Martin Health Services, Rash has the opportunity to educate elderly patients on a number of healthcare disciplines. Rash's service to advance the profession of pharmacy includes participation in the Iowa Pharmacy Association (IPA). He was the founding chair of the Long Term Care and Senior Care Advisory Committee and now is an IPA Board of Trustees member. Rash has remained involved with CPHS, volunteering in a variety of capacities, including as an admissions interviewer.