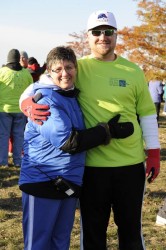 Lori Richman, administrative assistant for student services in the Drake University Law School, has been named secretary of the board of directors for the Colon Cancer Foundation of Iowa.
Richman has worked at Drake for 15 years and is passionate about giving back to her community. As a four-year colon cancer survivor, she's delighted to serve on the board of directors for an organization she holds close to her heart.
"Being a part of a foundation that helps bring awareness to Iowans about Colon Cancer is amazing. It's so rewarding to know that I'm helping others who are going through a very tough time in their lives. I know firsthand how hard the treatments are not only for them, but their families, as well," says Richman. "I look forward to being more involved in shaping the foundation, so we can spread the word about the benefits of colon cancer screenings."
The Colon Cancer Foundation of Iowa's mission is to build colorectal cancer awareness within Iowa communities through public, physician, and patient education, utilizing a variety of different programs, activities, and resources. The goal is to provide the resources for those in need of assistance.
The foundation helps fund colonoscopies for Iowans that cannot afford them, genetic testing for those who've been diagnosed with colon cancer, and the Snow Angels program. Snow Angels provides snow removal services for colon cancer patients undergoing chemotherapy and their caregivers.