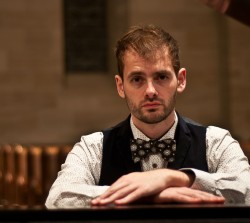 Drake University's Keys to Excellence Piano Concert Series will continue on Monday, March 10 with pianist Nathan Carterette from Pittsburgh, Penn. The performance will start at 7:30 p.m. in Drake University's Sheslow Auditorium located at 2507 University Ave and is free and open to the public.
Carterette will be performing Bach's famous Goldberg Variations. He has distinguished himself in the concert world by performing a large range of works from Elizabethan keyboard music to music written today. Carterette's innovative programming has inspired audiences to approach unfamiliar music with open ears, and familiar music with new appreciation.
Previously, Carterette has performed in Weill Recital Hall and the Yamaha Piano Salon of New York City, the Gasteig in Munich, the Museum für Kunst und Gewerbe of Hamburg, and Cleveland's Trinity Cathedral. He has also presented in several universities, including Berklee School of Music, Radford University, Baldwin Wallace Conservatory, and Carnegie Mellon.
The Keys to Excellence Piano Concert Series was created to raise awareness of Drake's fundraising efforts to purchase of 70 new Yamaha pianos for the music department. The series features internationally acclaimed artists performing on the magnificent Yamaha CFX concert grand, an instrument that debuted in 2010 to rave reviews for its revolutionary sonorous clarity and extensive tonal range.
The Yamaha CFX was recently purchased for Drake University through the generous support of Sally B. Bartlett, who was recognized at a concert on Dec. 8, 2013.
The remaining events in the series, which are also free and open to the public, are as follows:
Monday, March 24, 7:30p.m.: Marina Horak, professor of piano at academy of music in Ljubljana (Slovenia) Sheslow Auditorium, 2507 University Ave.
Monday, March 31, 7:30p.m.: Anthony Molinaro, assistant professor of piano at Loyola University (Chicago) Patty and Fred Turner Jazz Center, 2505 Carpenter Ave.
The Keys to Excellence Piano Concert Series is sponsored by Yamaha, West Music, Civic Music Association, and Drake University.
For more information, contact Nicholas Roth at 515-271-2857 or nicholas.roth@drake.edu"> nicholas.roth@drake.edu.