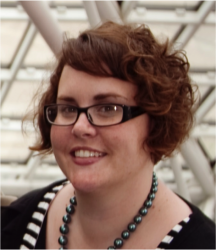 On Jan. 31, Stephanie Heriger, education programs manager at the Rock and Roll Hall of Fame and Museum in Cleveland, Ohio, will deliver a lecture titled "Roll Over Beethoven: Public Musicology at the Rock and Roll Hall of Fame and Museum." The lecture, which is free and open to the public, will begin at 4 p.m. in the Cowles Library Reading Room, 2507 University Ave.
Heriger will share how she engages a variety of audiences from kindergarten through adult as an educator at the Rock and Roll Hall of Fame and Museum. Heriger coordinates educational programs for the public as well as professional development opportunities for educators who are interested in integrating rock and roll into their teaching practice.
"I think it's a particularly good opportunity for artists and educators to hear a speaker who has pursued creative and vocational opportunities outside the usual disciplinary tracks," says Eric Saylor, associate professor of music at Drake University. "Stephanie shows that meaningful non-profit educational work is not limited to teaching in public schools, and we hope that it might broaden our students' ideas about possible career paths."
This event is sponsored by Drake University's Department of Music.
For more information, contact Eric Saylor at eric.saylor@drake.edu.