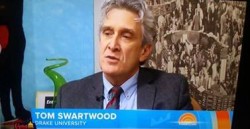 Tom Swartwood, assistant professor of practice in entrepreneurship at Drake University was featured on NBC's "Today" show as the wealthiest city in America.
The segment aired on Thursday, Jan. 23, highlighting local residents and businesses. Swartwood boasted about Des Moines' academic institutions and cost of living advantage.
Visit www.today.com/money  for more information.