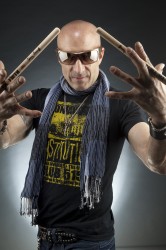 Kenny Aronoff didn't become rock-and-roll's most in-demand and influential drummer overnight. The lean 60-year-old from Massachusetts has contributed a signature combination of power and finesse to hits by John Mellencamp, Bob Dylan, Jon Bon Jovi, and a dizzying list of other iconic musicians, over many decades of perseverance and discipline.
This fall, fresh from a lengthy tour with John Fogerty, Aronoff visited Sheslow Auditorium. In his concert on November 20, he shared everything from exercise and nutrition habits, to practice regimens, to an obsessive attention to preparation (he said he writes sheet music with every note he's going to play at each performance, and personally inspects every accessory in his drum kit before every show).
Between anecdotes, Aronoff serenaded the crowd with a diverse collection of rock numbers, including his well-known solo from Mellencamp's "Jack and Diane." It was one of very few Drake events to ever come with a set of earplugs. The videos below include Aronoff's introductory remarks, a performance of Phil X's "Talk You Off The Ledge," and a final drum solo from his evening at Drake University.