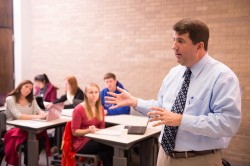 Drake's College of Pharmacy and Health Sciences is helping its students prepare for what is an increasingly complex and diverse world by providing the opportunity for students to pursue multiple curricular options, including joint degree programs, minors, concentrations, and second majors. More than 50 percent of doctor of pharmacy students and 33 percent of health sciences students are pursuing one of these program options.
"Our curricular options provide an opportunity for students to explore another area of interest while providing flexibility for them in their future career pursuits" says Renae Chesnut, associate dean for academic and student affairs. "We have implemented these unique educational pathways to make it as easy as possible for students to develop additional knowledge and skills."
With just one additional semester, Pharm.D. candidates can also earn a Master of Business Administration (M.B.A.) or Master of Public Administration (M.P.A.), or they can receive their law degree (J.D.) with two additional years of coursework. Pharmacy students can also take part in a diabetes concentration, one of the few available across the country.
CPHS provides multiple program options for health sciences students as well. Students can choose to add a second major, concentration or minor in a variety of areas, including global and comparative public health, leadership, or entrepreneurship. In an agreement with Mercy College of Health Sciences, students can also earn a certificate in nuclear medicine technology or clinical laboratory sciences while they complete their health sciences degree.
Phillip Schieffer, a Pharm.D./J.D. candidate, discovered he had many interests as an undergraduate student and saw the Pharm.D./J.D. program as a way for him to maximize his academic experience.
"As an undergraduate, I couldn't really see myself specializing in one area for my whole career," says Schieffer. "I wanted the option to work in multiple disciplines. Then I found the PharmD/J.D. dual degree, which is a shorter pathway than I originally thought. I met with Dr. Chesnut to outline scheduling options and she helped me navigate registration."
Janelle Behke, a 2015 Pharm.D. candidate, chose to pursue the diabetes concentration, saying it was a natural fit for her interests and a way for her to standout in her eventual job search.
"Adding a concentration provides an opportunity to differentiate myself in the job market," says Behke. It also has given me extra background knowledge about how to treat patients with diabetes, which is a rapidly growing segment of patients and a special interest of mine."
Sarah Mooney, a senior studying the service management track in health sciences, decided to pursue the leadership concentration after participating in the LEAD 050 course.
"The leadership concentration played perfectly into the management side of my degree, helping me not only learn how to be a manager, but also how to lead people effectively and respectfully," says Mooney.
CPHS administrators say the number of curricular options is growing because students are continually identifying new areas of interest.
"We realize that each student is an individual and therefore, we want to provide opportunities for our students to tailor their degrees for their career aspirations," says Chesnut. "Our goal is to help them make the most of their experience at Drake, and we're committed to providing opportunities and avenues for students to pursue their passions."