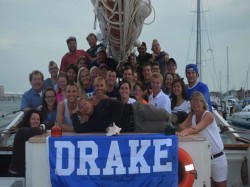 Drake students from a variety of disciplines are gearing up to take their learning abroad during Drake University's 2014 January Term. Fourteen different travel seminars are being offered this year—some hitting new destinations and others returning to last year's hot spots.
It's no surprise that Leadership at Sea—a course on leadership, seamanship, and Nassau—is one of the returning programs. For the second year in a row, Drake students will set sail in the Bahamas to experience leadership outside their comfort zones and provide support to the Bahamas Marathon and the Susan G. Komen Race for the Cure.
The course is structured in three parts. First, the students spend a week on Drake's campus, learning about Nassau, seamanship, and various leadership models. Next, the group travels to Nassau to spend time at the American Embassy, tour the area, meet with members of the Bahamian government, and help Pam Richardson, director of Race Weekend, prepare for the Bahamas Marathon and the Susan G. Komen Race. This year the students will also meet and spend time with student leaders at the College of the Bahamas and complete a service project.
For the final part of the course, the students will board the Liberty Clipper—a gaff-rigged, square-masted sailboat—and the Atlantic Ocean will become their classroom. At sea they'll have the opportunity to slowly take command of the ship and put their leadership skills into action.
Last year's trip was well received, and the Race Weekend went off without a hitch. More than 1,000 people participated in the 2013 races. Some Drake students ran in the races, while others staffed water stations and helped Pam's team with race logistics. Tom Westbrook, professor of education, says more than half of this year's participating Drake students plan to run in one of the marathon races.
"I think the Susan G. Komen race and the marathon provide a wonderful opportunity for our students to get involved with the Nassau community and participate in an excellent fundraiser that allows them to get to know the citizens and the community better," says Westbrook, who is co-leading the trip with Melissa Sturm-Smith, associate provost for academic excellence and student success. "We are delighted to return and team up with Pam for the second year in a row."