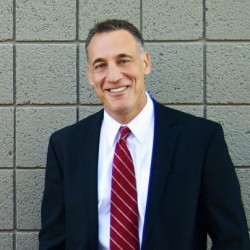 Drake alumnus and longtime Board of Trustees member John Shufeldt, LA'82, reveals the formula for success in his new book, Ingredients of Outliers: A Recipe for Personal Achievement.
Throughout the book, Shufeldt shares stories about the experiences and people who impacted him the most. He discusses failure and persistence, but also packs in plenty of humor and personal life lessons to which most readers will relate. Each chapter focuses on a different quality of an "outlier," and discusses how one achieves this status.
"An outlier is an exceptional person for whom excellence is simply a starting point on the way to a destination far beyond the normal measures of achievement," explains Shufeldt. "We all have within us the ability to excel and achieve and join the ranks of the outliers."
Failure, persistence, preparation, communication, and tolerating risk are some of the many qualities that define an outlier, according to Shufeldt, with two of the most important being humility and the drive to never stop learning.
"I am absolutely a lifelong learner. The more I know, the more I realize I don't know," says Shufeldt. "Sometimes I look back on something I have learned and think, 'How did I not know that?' Education is like putting on a new pair of glasses or using new lens, you gain a whole new perspective. That's what lifelong learning is all about."
Specific individuals at Drake inspired Shufeldt, and he says he remains on the Board of Trustees in part because of his experiences with these inspirational people.
"Robert Kodoma was a professor of mine who taught physiology, endocrinology and electron microscopy. He had incredibly high standards. He was a great mentor and advisor and was brutally honest," says Shufeldt.
Since graduation, Shufeldt has reached out and thanked these and other mentors who influenced his life. Seemingly trivial things they did or said, he explains, ultimately made a major impact on him as a person.
Copies of Ingredients of Outliers can be purchased at Barnes & Noble and Amazon.
"That's what makes Drake, Drake. People like Robert Kodoma and Sue and Dean Wright. Both Sue and Dean were super friendly and kind as kind could be. Sue Wright was honest, kind, and caring—but firm and fair."
The four years he spent at Drake were the most transformative of his life, says Shufeldt. The people he surrounded himself with, including peers and faculty members, challenged him to grow and excel.