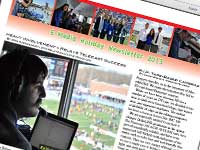 Our 2013 edition of Electronic Media's Holiday Newsletter is ready for your inspection.
Lots of news to share on the facilities and curriculum front. And we never cease to be amazed at the interesting lives our alumni lead! The impressions you make on prospective Radio-Television Producing and Broadcast News students (each visitor receives a printed copy) are positive and important.
Thanks to you who contributed text, photos or both. Thanks, too, to current students and faculty who make this endeavor possible. Our address book is far from perfect, so if you know alumni who'd be interested, forward the link or we'll email a pdf. Happy Holidays!

[button_with_link url="https://news.drake.edu/wp-content/uploads/2013/12/Newsletter2013_HighQ.pdf" target="" class="" id="" onclick=""]View the newsletter[/button_with_link]