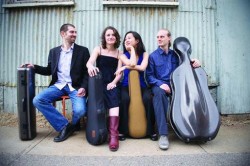 The Chiara String Quartet will perform at Drake University on Oct. 31 and Nov. 1 at 7:30 p.m. The concerts will take place in Sheslow Auditorium, 2507 University Ave., and feature music selections from Béla Bartók.
The quartet's four members, Rebecca Fischer, Hyeyung Julie Yoon, Jonah Sirota, and Gregory Beaver, have been performing together for 14 years. They are known for bringing fresh excitement to a traditional string quartet repertoire as well as creating insightful interpretations of new music. Their performances have captivated audiences throughout the country. The quartet's recent honors include the nomination of its recording of Jefferson Friedman's "String Quartet No. 3" for a Grammy Award in 2011 and the ASCAP/Chamber Music America Award for Adventurous Programming for the 2010-2011 season.
The concerts, which are free and open to the public, are sponsored by the Drake University's Music Department.
Visit www.chiaraquartet.com or www.facebook.com/chiarastringquartet for more information.
For additional information, contact Sarah Plum at 515-271-3736 or sarah.plum@drake.edu.