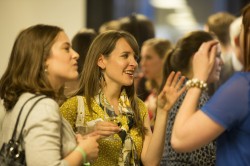 The 2014 Drake reunion schedule is out and better than ever with new formats that are sure to please Bulldogs of all ages.
Year and affinity aside, the Office of Alumni Relations is calling back all alumni to join in reunion festivities during Drake Relays 2014. Whether you graduated three years ago or 33 years ago, you're welcome to join in the fun at the Drake Relays All Alumni Tent on Friday, April 25, from 5–9 p.m.
"In the past, we've done 10-, 25-, and 40-year reunions during Relays weekend, but this year we decided we didn't want to restrict the celebrations," says Liz Tesar, assistant director of Alumni Relations. "Any alum can come to the Alumni Tent. We'll still celebrate and honor those major milestone reunions, but anyone is welcome to come and help celebrate."
Another change in the reunion lineup is the timing of the 50-year reunion, which historically has taken place during commencement weekend in May. In 2014 the 50-year reunion will instead be celebrated in the fall.
"The reason for changing the timing of the 50-year reunion is to provide alumni a better opportunity to engage with current students, faculty, staff, and the president," says Tesar. "When the reunion was held over graduation weekend, it was just too difficult to make that happen."
Join the weekend-long D Club reunion, kicking off on Thursday, April 24, with the Hall of Fame Awards. Visit
www.alumni.drake.edu/dclub 
for more information.
Both the Class of 1964 and the Class of 1965 will celebrate their 50-year reunion next fall, Oct. 23–25. A tentative weekend itinerary and other details can be found online at www.alumni.drake.edu/goldenreunion.
The Office of Alumni Relations is currently looking for volunteers to help serve on planning committees for the reunions. Call Liz at 515-271-3378 or email elizabeth.tesar@drake.edu for more information.