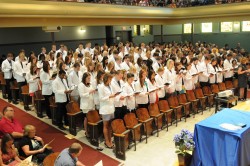 The Drake University College of Pharmacy and Health Sciences held their annual Doctor of Pharmacy White Coat Ceremony on Sunday, August 25, 2013 at 1:00 p.m. in Sheslow Auditorium. In the presence of family, friends, faculty, and a number of other guests, 110 students were presented with a white lab coat and personalized name tag marking their entrance into the professional program of study.
Each white coat was purchased through the sponsorship of pharmacy alumni and friends identified to the students through cards inserted into the pocket of each coat, opening the door to ongoing communication and informal mentoring as the students progress through the program.
Mitchell Webster, a fourth-year professional student, addressed the attendees. Kate Gainer, Executive Vice-President and CEO for the Iowa Pharmacy Association presented each student with a padded portfolio and led the students in the Pharmacy Student's Pledge of Professionalism.
A reception for all attendees followed the ceremony in Old Main Levitt Hall.