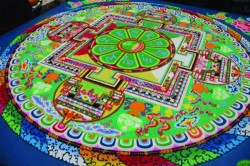 Tibetan Buddhist Monks from the Gaden Shartse Monastery in India will be on Drake University's campus September 9–13, 2013, creating a sand mandala and participating in a series of special cultural events that are free and open to the public.
The creation of the sand mandala is an artistic tradition for Tibetan Buddhists. The mandala is a symbolic picture of the universe and its purpose is to help transform ordinary minds into enlightened ones.
The mandala is created with millions of grains of colored sand, which is applied using small tube-like straws, funnels, and scrapers. Once completed, the mandala is destroyed, symbolizing the Buddhist doctrinal belief in the transitory nature of material life.
Visitors may view the ongoing construction of the sand mandala Monday through Friday in the Collier Heritage Room in Cowles Library between 9 a.m. and 5 p.m. Additional special events are listed below:
Monday, Sept. 9, 9 a.m. – Sand Mandala Opening Ceremony
Collier Heritage Room, Cowles Library
Monday, Sept. 9, 7 p.m. – Path of the Bodhisattva, lecture
Reading Room, Cowles Library
Tuesday, Sept. 10, 7 p.m. – An Evening of Sacred Music and Dance
Sheslow Auditorium
Wednesday, Sept. 11, 7 p.m. – World Peace and the Unity of all Religions, lecture
Reading Room, Cowles Library 
Thursday, Sept. 12, 7 p.m. – Buddhist Community Dialogue
Reading Room, Cowles Library 
Friday, Sept. 13, 7 p.m. – Sand Mandala Closing Ceremony
Collier Heritage Room, Cowles Library
The Tibetan Monks are visiting as part of the Comparison Project at Drake University. The Comparison Project (TCP) is an experimental effort in a philosophy of religion that is historically grounded and religiously diverse. It is generously supported by the Drake University Humanities Center, Humanities Iowa, the Medbury Fund, the Drake University Principal Financial Group Center for Global Citizenship, the Des Moines Area Religious Council, and Cultivating Compassion: The Richard Deming Foundation. TCP will host seven additional events throughout the 2013-2014 academic year.
For more information, contact Bradley Crowell, associate professor of religion at Drake University, at brad.crowell@drake.edu or 515-271-4502.
###
About TCP
www.comparisonproject.wordpress.drake.edu
www.facebook.com/drakecomparison
@drakecomparison
comparisonproject@drake.edu

About the Gaden Shartse Monks
www.gadenshartseculturalfoundation.org
https://www.facebook.com/pages/Gaden-Shartse-USA-Tour-2013/230600427087808