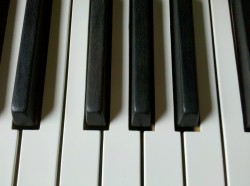 On Sept. 5, Associate Professor of Piano Nicholas Roth and Drake piano students will perform in the East Lobby of the Civic Center of Greater Des Moines on Vladimir Horowitz's unique, custom-regulated piano. The performance begins at 7 p.m. and is free and open to the public.
Horowitz is widely known as one of the greatest pianists of all time. He traveled around the world for concerts, using his own 9-foot Steinway piano. Horowitz died in November 1989, but his piano lives on and has been touring the world ever since. When Roth heard the historic piano was making its way to Des Moines this fall, he jumped at the chance to organize a concert.
The concert will feature Roth and Drake students Michael Buege, Sarah Hughes, Brian Kalina, Esther Lim, Daniel Scheetz, and Sarah Thune.
For more information, contact Nicholas Roth at 515-271-2081 or nicholas.roth@drake.edu.