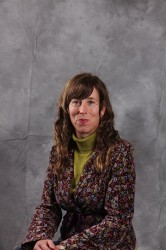 Debra DeLaet, professor of politics and international relations, was recently named the Herb and Karen Baum Chair of Ethics and the Professions. This prestigious faculty position guides Drake students in developing a firmly grounded personal commitment to the highest standards of ethics and ethical decision-making
"The Baum Chair of Ethics and the Professions is one of Drake University's most distinguished appointments," says Drake University President David Maxwell. "It reflects Herb and Karen Baum's lifelong dedication improving the commitment of businesses, institutions, and organizations to core ethical principles—a commitment for which they themselves serve as compelling role models. Professor DeLaet's work on connecting our students to community organizations to engage with challenging ethical issues is a powerful way in which to tie her research interests to student learning."
The chair position was held most recently by Garry Frank, the Thomas F. Sheehan Distinguished Professor of Public Administration. Herb Baum, BN'59, and his wife, Karen, contributed $2 million to establish the Herb and Karen Baum Chair of Ethics and the Professions in 2010.
"Given everything we read about ethical issues in business, I think there is a great need for educating young people on good ethical principles," says Herb Baum. "When we sat down with David to create the position, we agreed that every student who graduates from Drake University should have some kind of exposure to the teaching of business ethics. Debra is an outstanding role model—she has a great background and is in a great position to carry forward this ethical program."
DeLaet has received several prestigious awards during her time at Drake, including Honors Program Teacher of the Year, Arts & Sciences Teacher of the Year, and the Arts & Sciences Stalnaker Lecturer. Additionally, she has published books on U.S. immigration policy, human rights, and global health. She has also published numerous journal articles, book chapters, and reviews. Her current research projects focus on global health..
The application process for the position is competitive. Only faculty members with the rank of full professor may apply. The position rotates among the six colleges and schools with a new chair appointed every two years.
"I am honored to have been selected as the Baum Chair of Ethics and the Professions and thrilled about the opportunities this professorship offers," says DeLaet. "In this role, I look forward to developing networks of students, faculty, staff, local alumni, and community professionals to work together to address important ethical challenges within their particular areas of academic and professional expertise. In doing so, one of my fundamental objectives will be to enhance ethically-informed civic engagement on campus and beyond."
Debra DeLaet received her B.A. in political science from Miami University and her M.A. and Ph.D. from the University of Notre Dame. At Drake she teaches courses on human rights, the United Nations, gender and world politics, and global health.
DeLaet's responsibilities as the Baum Chair of Ethics and the
Professions include conducting an annual symposium and interacting with
organizations in the Des Moines area regarding ethics and values in the professions.
"What most excites me about this position is the opportunity it will provide to collaborate in an intentional way with Drake faculty, staff, and students as well as area professionals and civic organizations," says DeLaet. "I look forward to creating a sustainable model for addressing important global health and human rights challenges in our community."
Learn more about DeLaet's vision for the position and her goals in the Fall 2013 issue of Blue Magazine.