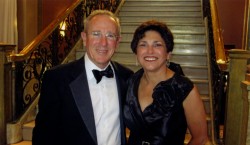 Travel programs have always been a hit with Drake alumni, but the 2014 trip is expected to blow the others out of the water. Drake staff member Diane (Anagnos) Caldbeck, ED'72, and her husband Bill Caldbeck, BN'70, will lead Drake alumni and friends through the Aegean Sea on a seven-night luxury cruise. Diane, former director of alumni relations and now associate vice president for alumni and development, is the first staff member to host a trip of this kind.
"The response has already been great," says Caldbeck. "I think having a staff member serve as host is providing a nice, additional connection to the University for participants."
More than 100 alumni and friends have already signed up for the May 14–22, 2014 trip. Caldbeck says whether or not you've been to the Greek Isles, this is a great opportunity to see a beautiful part of the world with people that share something in common with you—the Drake experience.
"Combining family, friends, Drake, and my Greek heritage is something I couldn't pass up," says Caldbeck. "When the opportunity arose, I took it up with great enthusiasm."
You can save $1,000 per stateroom if you book by September 26, 2013. For more information, call 800-842-9023.
Blake Campbell, director of alumni relations, says Drake has not been in the habit of sending a staff member on alumni trips in the past. The Alumni Relations office hopes that sending a staff member will enhance the trip and possibly open doors for more involvement in the future.
"When you experience new things like taking a cruise or traveling to Europe, you create memories, but so much of it is about the context of the memory—who's around you and experiencing it with you," says Campbell. "Having the opportunity to be in a different setting with other Drake alumni is a great thing."