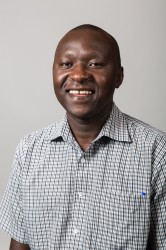 A visiting economics expert will help Drake professors teach about emerging economies, sustainable food production, and other topics through an international perspective this year. Benard Musekese Wabukala, a lecturer at Makerere University Business School in Kampala, Uganda, will be a scholar-in-residence at Drake through the fall semester.
During his visit, Wabukala will present to students and faculty members, conduct new research, and consult with faculty members from every college and school. His stay is made possible by the Fulbright Scholar-in-Residence Program and an evolving partnership between Drake and Makerere University Business School (MUBS).
"We plan to introduce Wabukala to as wide a range of people at Drake as possible," says Tom Root, associate professor of finance. "If we can bring that perspective into pharmacy courses, journalism courses, that's great. It is in the spirit of Fulbright that scholars find a way to be accessible to faculty members in all areas of the University."
Wabukala, who teaches economics at MUBS, brings meaningful insight into several timely issues of global importance to Drake students. He will teach a graduate-level course in the College of Business and Public Administration, focusing on challenges and opportunities arising from Africa's emerging economies. Additionally, he will help Drake's business professors tie lessons on African economies into a multitude of undergraduate courses.
"Six of the top 10 fastest growing economies in the world are in Africa," says Root. "A lot of economists talk about Africa as being where China was 20 years ago. And for our students, being on the forefront of knowledge of that shift is very important."
From a political standpoint, students will benefit from considering the contrasting foreign policy approaches that the United States and China have taken in the sub-Saharan region of Africa. Both nations are providing financial aid and infrastructure to areas such as the Darfur region of Sudan, but the expectations associated with that aid have differed between the superpowers, says Jimmy Senteza, associate professor of finance.
Four Drake students receive Fulbright scholarships
Historically, Drake University has been one of the top institutional producers of Fulbright Scholars in the category of master's producing institutions—and this year is no different. Four Drake students were named Fulbright Scholars for the 2013-14 academic year, setting a new Drake record for the greatest number of students admitted to the competitive postgraduate international exchange program in a single year. Kathryn Bell, Amelia Piecuch, Amanda Laurent, and Steven Schaaf join a list of more than 20 Drake students who have received Fulbright scholarships in the past decade. Click here to read more.
"The U.S. has tended to have strings attached, while China has not," says Senteza. "The question is who will win influence, and in what sectors or areas of Africa."
Wabukala's visit reflects a renewed strategic commitment to infusing international perspectives into course curricula. Part of that internationalization effort involves strengthening strategic partners abroad, including through partnership with the Fulbright program—Drake consistently is among the nation's top producers of student Fulbright Scholars, with four students earning the prestigious opportunity this year. Numerous faculty members have also participated in Fulbright programs abroad, seizing the opportunity to bring new international perspectives back to their classrooms.
Drake's long-standing partnership with Makerere University Business School is marked most visibly by an annual travel seminar. For each of the past six years, MUBS has hosted Drake students for a range of scholarly inquiries: Students have explored prison rehabilitation programs, talked with patients at The AIDS Support Organization, reviewed health care practices in Uganda's main referral hospital, attended loan groups of microfinance borrowers, visited schools to discuss educational challenges, and discussed with Uganda's Inspector General of Government ongoing efforts to end corruption.
Wabukala says he's proud that his Fulbright visit will deepen Drake's partnership with MUBS. While in Iowa, he will consult with the World Food Prize to bolster his work on the economic impact of sustainable food practices and sub-Saharan Africa's agricultural trade policies. He also hopes to visit with Iowa farmers and to immerse himself in the diverse cultural activities that Drake has to offer.
"Drake University embraces, among other values, multicultural diversity in teaching and community service," says Wabukala "This makes it a special home for me to share my culture and history as I also take home a bundle of cultural benefits from the U.S."