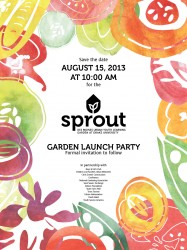 On Aug. 15, Drake University will celebrate the launch of the Des Moines Urban Youth Learning Garden, an educational initiative made possible through support from many community partners: Boys & Girls Club of Central Iowa, C. Green Contractor, Inc., Children and Families Urban Ministries, Confluence Landscape Architecture & Urban Design, National Gardening Association, Seed Savers Exchange, Sodexo Foundation, State Farm Youth Advisory Board (YAB), Tress Forever, Urban Ambassadors, Youth Build, and Youth Service America.
The launch party will be held on Thursday, Aug. 15 at 10 a.m. at the garden, which is located on the northeast corner of 25th St. and Forest Ave in Des Moines. Members of the Drake community, garden contributors, and community partners will be in attendance.
The garden's purpose is twofold: it will serve as a unique place for kindergarten through graduate education to take place, and it will provide surrounding neighborhoods access to healthy food. The land, which is being provided by the University, features an outdoor classroom that can accommodate 30 adults or 50 children. The garden also includes fruit tress, native Iowa plants, and multilingual signage.
The lead gift of $45,000 for the garden came from the State Farm Youth Advisory Board (YAB).
"State Farm is proud of what's being accomplished with the garden at Drake University," says Kelly Pargett, public affairs specialist at State Farm. "The University's commitment to serving and educating the community is admirable."
The YAB was established in 2006 with the mission of empowering youth to play a leading role in improving education through service-learning and creating sustainable change in local communities across the U.S. and Canada. Drake is one of 68 community organizations to receive a youth-led service-learning grant this year. The YAB has granted over $24 million in grant money since its inception in 2006.
Drake student Madison Johansen served as an intern for the garden this summer. Funding for her internship came from the Drake University Slay Fund for Social Justice. The Slay Fund was launched by a gift to distinctlyDrake from Drake alumni Brent, ED'70, and Diane, ED'70, Slay. The fund supports programs at Drake that advance social justice.
For more information, contact Mandi McReynolds, director of service-learning at Drake University, at 515-271-2338 or mandi.mcreynolds@drake.edu.
Visit www.statefarmyab.com for more information on the State Farm Youth Advisory Board.