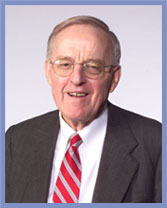 Donald V. Adams has been named recipient of the 2013 Robert D. Ray Pillar of Character award from Character Counts In Iowa, the most prestigious honor given by the organization. The Robert D. Ray Pillar of Character award was named after Robert Ray, former Iowa governor and Drake University president, and founder of Character Counts In Iowa.
"Don Adams has been impacting the lives of young people and those around him his entire life," says Ray. "In many ways, Character Counts In Iowa would not be what it is today without Don and his efforts. He continually demonstrates good character and provides leadership and inspiration to meet our mission."
Don Adams came to Drake in 1969 when he was appointed vice president for student life. Later, he served as vice president for enrollment management and executive assistant to the president. Prior to coming to Drake, Adams worked for ten years at Michigan State University where he received his master's and doctorate in Higher Education Administration. At Michigan State, Adams worked in residence life, which at the time was the largest on-campus residence hall program in the United States with more than 20,000 students.
Adams is well known at Drake and has received numerous University and community awards throughout his career, including the Drake Medal, the Madelyn M. Levitt Distinguished Community Service Award, and the Neighborhood Leadership Award from the Greater Des Moines Leadership Institute.
Adams is also known nationally for his commitment to higher education and student affairs. He has served as regional vice president and president of the National Association of Student Personnel Administrators (NASPA), and was selected for NASPA's Scott Goodnight Award as the outstanding student affairs administrator in the U.S. He also received the Fred Turner Award for outstanding service to NASPA.
Although Don officially retired from Drake University in 2007, he has remained involved as a board member for Character Counts In Iowa and continues to have a significant influence on the campus community through the Donald V. Adams Leadership Institute.
"Receiving this award is both exciting and motivating. I have the utmost respect for Governor Ray and Drake University, which is why it is very humbling to receive this award," says Adams. "Governor Ray and I have worked together in a variety of capacities and his values and principles have always paralleled my own. We share the same passion for Drake and recognize that it is an honorable place to be."
Adams will accept the award at the Iowa Character Awards banquet in the Hy-Vee Conference Center on Aug. 2. For more information, contact Amy Smit at 515-271-2293 or amy.smit@drake.edu.