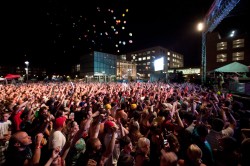 What if a major music festival could facilitate the professional connections you need to launch your career or take your business to the next level?
Drake University Startup Central, an interactive networking hub at 80/35, aims to leverage the creativity of a central Iowa festival-goers for the benefit of current and aspiring small business leaders. The dedicated space in a free area along Locust Street, across from the Temple For Performing Arts, will focus on idea generation, networking opportunities, entrepreneurial mini-workshops, and other interactive activities.
Drake University Startup Central was organized by Drake and the University's University's Buchanan and Pappajohn Entrepreneurship Centers, which provide startup training and networking resources for Drake students and Central Iowa entrepreneurs. At Startup Central, 80/35's more than 30,000 attendees can develop innovative business collaborations while they take in music headlining artists including headliners David Byrne & St. Vincent and Wu-Tang Clan.
"The three most important elements of a successful startup are connections, connections, and connections," said Tom Swartwood, assistant professor of practice in entrepreneurship at Drake University. "Drake Startup Central will provide a wonderful opportunity for us to leverage the creativity of the 80/35 crowd and the resources of Drake University—and our Entrepreneurship Centers—to help forge and strengthen those connections."
A number of local startup representatives will be on-hand to facilitate conversation and share their experiences. Visitors will share their big dreams for Des Moines, put a query out for goods and services that they need to help their business grow, and offer their skills to local professionals. The hours of operation will be 5 to 8:30 p.m. Friday and noon to 8:30 p.m. Saturday.
Drake Startup Central will feature representatives from the following organizations, at various times throughout the festival:
BettrLife (health/wellness technology)

Crown Cleaners (dry cleaning)
eComedy (e-commerce and digital marketing)
8/7 Central (T-shirt printing and design)
Fresk Interactive (new & emerging technologies)
Greater Des Moines Partnership (business resources)
GRN Designs (innovative LED and solar light solutions)
Lincoln & Lexi (clothing and accessories)
Phonebank.org (calling campaigns)
Rocket Referrals (referral generation)
Saturday Mfg (marketing)
TEDxDesMoines (visionary ideas conference)
Volunteer Local (volunteer organization/management)
…and more to be announced.
Drake University Startup Central is a major public step forward for the University's Pappajohn Center for Entrepreneurial Outreach, founded in 1998, and Buchanan Center for Entrepreneurial Leadership, founded in 2010. Their shared headquarters in the Drake University College of Business and Public Administration is currently undergoing a significant renovation that will enhance the Centers' operations.
Drake University Startup Central is an extension of a similar project launched last year by 80/35 and sponsored by Silicon Prairie News. Eight companies took part in that four-hour showcase—an impressive inaugural event that 80/35 organizers say served as a springboard for this year's partnership with Drake.
"We are excited to partner with Drake and the Entrepreneurship Program," said Amedeo Rossi, 80/35 project manager. "We look forward to having this area to allow individuals to interact and hopefully spur new and exciting developments for Des Moines."