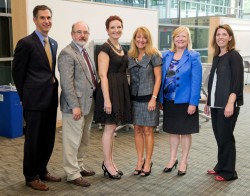 Drake University College of Pharmacy and Health Sciences has received a $125,000 gift from Cardinal Health, Inc., of Dublin, Ohio, to fund scholarships for pharmacy students interested in working for independent pharmacies. Drake was one of four schools selected to receive the gift.
"Drake University's commitment to community pharmacy and retail independent pharmacists of the future is the reason why we chose Drake University as the right place for us to invest our scholarship dollars," says Chris Lanctot, vice president of sales at Carinal Health.
Faculty and staff in the College of Pharmacy and Health Sciences (CPHS) at Drake recognize independent ownership as a viable, meaningful career path and an essential component within the spectrum of health care services. Drake University was selected as one of the recipients of the Cardinal Health gift because of their ongoing effort and commitment to independent pharmacy practice.
"Drake has demonstrated a lengthy commitment to providing students opportunity to develop skills and experience practices in all areas of pharmacy, including independent pharmacy," says Renae Chesnut, professor and associate dean of CPHS. "Our students have been able to complete an M.B.A. concurrently with their pharmacy degree since 1977 and our innovative entrepreneurial leadership program, DELTA Rx, has instilled a spirit of change and innovation to all areas of practice, including independent community pharmacists, since 2006."
In recent years, CPHS has developed a targeted initiative that includes an internship program, a business plan competition, support for the student chapter of the National Community Pharmacists Association (NCPA), and scholarships. The Cardinal Health gift will allow Drake University to continue providing support to students who are interested in working for independent pharmacies.
"On behalf of the students, faculty and staff at Drake University College of Pharmacy and Health Sciences, I offer sincere thanks to Cardinal Health for their vision for patient-centered, community based care and their investment in our student pharmacists," says Wendy Duncan, dean of CPHS. "Community pharmacy is at the center of healthcare in our rural communities, and we are committed to ensuring that Drake graduates continue to serve where our patients need them most."
An official statement from Cardinal Health, Inc. will be available soon. For more information, contact Renae Chesnut at renae.chesnut@drake.edu or 515-271-3018.