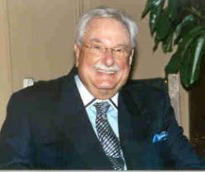 Dwight Opperman, LW'51, the single largest benefactor in Drake University's history, died on Thursday, June 13 after battling liver cancer for five months. Funeral services were held on Saturday, June 22 at Forest Lawn in Glendale, Calif.
"Dwight Opperman was an emblem of all that Drake University has been and aspires to be for our students," says David Maxwell, president of Drake University. "Dwight came to Drake from small town Iowa, left with two degrees and ultimately became the CEO of a major publishing entity and an internationally known figure in legal circles. As a long-time member of Drake's Board of Trustees and the University's most generous donor, his impact on Drake and on the lives of our students, faculty and staff will last for generations. We have lost a treasured member of the Drake family, and we will miss him."
Opperman's history with the Drake Law School dates back sixty-five years, to the summer of 1948 when he applied for admission. The Dwight D. Opperman Scholars, Opperman Hall and Law Library, the Dwight D. Opperman Lecture in Constitutional Law, and the Opperman Center—home of the American Judicature Society—are just a few of the many ways Opperman has impacted Drake University and the lives of Drake Law students. During his life Opperman gave over $20 million to the University.
"Dwight Opperman transformed the lives of so many young people," says Allan Vestal, dean of the Drake Law School. "The wonderful effects of his generosity continue to be felt by the recipients and their families many years after they graduate. His presence is a daily feature of the Law School community through the building that bears his name, the people whose presence is due to his generosity, and the programs that he brought to fruition. For all of that, he has our genuine and heartfelt gratitude."
About Dwight Opperman
Dwight D. Opperman, LW'51, is married to Julie Chrystyn Opperman, and father to Vance and Fane Opperman of Minneapolis, Minn. Opperman is recognized as Drake Law School's most generous benefactor.  Immediately following graduation, Opperman began his career at West Publishing Company, the largest and most prominent publisher of law books in America. He started as editor and rose to president, chief executive officer, and chairman. In 1996, Thomson Corporation, an international publishing company, acquired West Publishing Company, and Opperman became chairman emeritus of The West Group. Most recently, Opperman served as chairman of Key Investments Inc., in Minneapolis, Minn. Opperman married Julie in 2008 and has been living in Beverly Hills, Calif.
Opperman's contributions to American legal institutions are vast and have been widely recognized. He has served on the boards of many institutions, including Drake University, the American Judicature Society, the Brennan Center for Justice, New York University Law School, and the Supreme Court Historical Society. He has been honored numerous times, including honorary doctor of laws degrees from Drake and Hamline Universities; the Herbert Harley Award (1984) and the Justice Award (1992) from the American Judicature Society; the first George Wickersham Founders' Award from the Friends of the Law Library of Congress; and the Outstanding Alumni Award from Drake University Law School.
Opperman was a generous supporter of the Drake Law School for many years. He endowed the Dwight D. Opperman Lecture in Constitutional Law, which has brought eight present and former U.S. Supreme Court justices to campus. He also was the major contributor to Opperman Hall and Law Library, which is named in his honor. In addition, he funded the development of Wifvat Plaza, a major landscaping and sculpture project named in memory of his wife, the late Jeanice Wifvat Opperman, and her family.
For more information, contact Ann Van Hemert at ann.vanhemert@drake.edu or 515-271-4958.