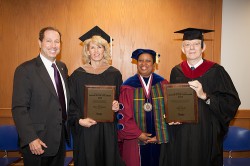 Two Drake University professors were honored at commencement on May 18 as the 2013 recipients of the prestigious Madelyn Levitt Teacher and Mentor of the Year awards, the highest honor a Drake faculty member can receive.
Mary Edrington, associate professor of practice in marketing and internship coordinator, received the 2013 Madelyn Levitt Teacher of the Year award and John Lytle, Ellis and Nelle Levitt Distinguished Professor of Journalism, received the 2013 Madelyn Levitt Mentor of the Year award. They were recognized for their positive impact and outstanding commitment to student success.
Madelyn Levitt, who served as a member of the Drake University Board of Trustees for 13 years before she passed away in 2007, committed herself to Drake through ongoing interest in faculty and staff achievement. She chaired two Drake fundraising efforts, raising approximately $320 million for the University. She was the first woman in America to chair a successful campaign of $100 million or more for a coeducational university. Levitt also contributed more than $5 million of her own funds to Drake. In her honor, the awards were created to reward faculty and staff who demonstrate commitment to student success either through a mentorship or professorial role.
Mary Edrington
Edrington has been working at Drake since 1986. She is currently an associate professor in the College of Business and Public Administration, and also coordinates internships for the College. One of her nominators said she is beyond passionate about her work and has the ability to bring the real world to the classroom in a way that few professors are able to do.
"It was a huge honor to receive this award," says Edrington. "I consider it a privilege and joy to be a professor. When I hear from alumni that they remember advice that I had given them or they use a marketing strategy I discussed in class, it gives me a lot of satisfaction and it reinforces why I love to teach."
John Lytle
Lytle has been working at Drake since 1977. He currently coordinates the broadcast news sequence and teaches other production and reporting courses. He is known for taking special care when working with students, and still remains in contact with many. One nominator said he considers Lytle to be a lifelong mentor.
"Working with graduates to find or change jobs is an important and enjoyable responsibility for Drake faculty," says Lytle. "To be recognized with the Levitt Mentor award is truly humbling. I think many others are deserving."