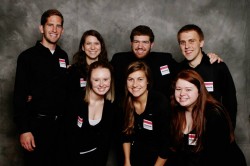 With the ever-changing landscape of higher education, Drake University understands the importance of remaining relevant, which is why Drake students are provided with an abundance of experiential learning opportunities. Because of the great partnership that Drake University has with the Des Moines community, the opportunities for Drake students to learn from direct experience are boundless.
"Drake is on the forefront," says Melissa Sturm-Smith, associate provost for academic excellence and student success. "We are offering our students outstanding opportunities for experiential learning, and the Passion for Fashion benefit fashion show is just one example of how that's happening."
Drake students in the Leadership Education and Development (LEAD) concentration had the opportunity to develop a benefit fashion show this spring with Dress for Success Des Moines, a non-profit boutique and career center for economically disadvantaged women. Drake alumna Jill Niswander, BN'02, and Jodi Foster started the Des Moines affiliate of Dress for Success, a national non-profit organization, in 2011.
The LEAD concentration aims to elevate a student's confidence and competence in influencing positive change by connecting them with experiential learning opportunities both on and off campus. The series of courses provide a blend of experiences that help them better understand themselves and others.
Dress for Success provides women with professional attire, a network of support, and career development tools to find jobs and remain employed. In order to effectively support women in the Des Moines area, Dress for Success Des Moines relies on donations and fundraising events like the Passion for Fashion benefit show. This was the second year the LEAD 100 course partnered with Niswander and Foster for Passion for Fashion. Mandi McReynolds, director of community engagement and service-learning at Drake, developed the partnership between the class and the organization.
"Sometimes learning takes place in the most unstructured environments," McReynolds says. "This experience is eye-opening for students. They have to step out of their comfort zone and learn how to advocate for a cause."
The LEAD students were responsible for developing, promoting, and executing the show, which occurred on Saturday, May 4, at the Olmsted Center. McReynolds played an integral role in helping the students learn about Dress for Success and how to support a non-profit organization. Courtney Howell, as service-learning ambassador, led the project, and other Drake students from Alpha Phi Omega, graphic design, and public relations were also involved. Sturm-Smith says planning the fashion show was an excellent way for students to apply theory to practice.
Various committees were developed and the students were responsible for creating goals and working together as a team. More than 150 people attended the show, which raised nearly $13,000—a substantial portion of the $15,000–$18,000 required to operate Dress for Success Des Monies each year.
"I had never planned an event before. It was challenging," says Haley Hicks, a sophomore in the LEAD 100 course. "Learning to communicate and work with a real organization was so beneficial. I knew that service-learning was a component of the course, but this wasn't just volunteering for a day—this was a huge commitment riding on our shoulders."
Sturm-Smith says the show served as a great way to prepare the LEAD students for their next step in the LEAD concentration—a capstone course. In the capstone course, the students will be working independently, developing their own project, and creating their own deadlines.
"Experiential learning projects offer great lessons in flexibility, adaptability, and critical thinking," says Sturm-Smith. "At Drake, we are continuing to provide outstanding learning opportunities that make our graduates stand out above the rest."