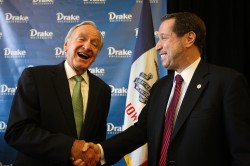 As director of the Agricultural Law Center at Drake University, Professor Neil Hamilton often incorporates elements of the federal farm bill into his classroom. That legislation—debated and updated by Congress every five years—is the nation's primary agricultural policy tool, and as such offers a wealth of information that is crucial for the next generation of lawyers.
But in 30 years at Drake, Hamilton has never been able to offer his students the in-depth look into agricultural policy he'll be able to provide in the next few years.
U.S. Sen. Tom Harkin announced on May 24 that he plans to transfer and eventually donate historical papers from 40 years of service in the U.S. Congress to Drake University. Those papers, including a wealth of documents from Harkin's time as chair of the committee that wrote the 2003 and 2008 farm bills, will be stored in a newly created Drake University Archive in Cowles Library after Harkin retires in 2014.
"Part of the value of the archive materials, both to students in my ag law courses and courses on legislation, will be to give students and researchers insight into the work of a legislative leader throughout his career," says Hamilton.
Students may know, for example, that Harkin led a pilot program to provide children with fresh fruits and vegetables as snacks in public classrooms. But a closer look into Harkin's archives will lend much deeper insight into discussions underlying the development and launch of that program.
"As we think about lawmaking and strategy and the types of compromises that are made in that complicated process, there's a lot to learn there," says Hamilton.
Drake leaders followed Harkin's announcement with their own, calling for greater citizen engagement, collaboration, and learning opportunities for students, scholars, and the community at large. The new Tom Harkin Institute for Public Policy and Citizen Engagement—a nonprofit, non-partisan center designed to serve as a hub for public policy research and programming—will support research, collaboration, and education for Drake faculty members, students, and scholars from around the country.
Archival materials and institutional programming will offer resources related to policy areas that defined the senator's public service career, including:
• The Americans with Disabilities Act and related topics
• Prevention of chronic disease, as well as healthcare access and reform
• Access to and improvement of education
• Federal farm policy, including Farm Bill development and soil and water conservation
• Childhood nutrition, food access, and hunger prevention
• Labor issues
• Human rights and international development
"We're very excited about the fact that the Harkin archives and Harkin Institute will be invaluable resources for student learning at Drake University," says Drake University President David Maxwell, "ranging from providing material for curricular programming to experiential learning in archival strategies, research, policy development, and conference programming."
The transfer of Harkin's papers to the University will expand a rich collection that already contains the archival papers of publisher Gardner Cowles, U.S. Rep. Neal Smith, and the National Bar Association, among other prominent Iowans and organizations.
Full video from press conference on May, 24
[youtube http://www.youtube.com/watch?v=SvFzxfYUimg]