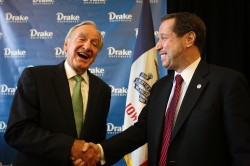 U.S. Sen. Tom Harkin announced today that he plans to transfer and eventually donate historical papers and materials from 40 years of service in the U.S. Congress to Drake University in Des Moines, Iowa, when his current Senate term is concluded. The Senator's papers will be housed in the newly created Drake University Archives in Cowles Library and will be made available for research purposes.
In connection with this planned gift, the University has established the Tom Harkin Institute for Public Policy and Citizen Engagement, a nonpartisan center designed to serve as a hub for public policy research and programming. The Institute will support research, collaboration, and education for Drake faculty members, students, and scholars from around the country. It will also provide access to public policy-related programming to the community.
"We are grateful to Senator and Mrs. Harkin for the opportunity to host the papers of one of Iowa's most prominent and influential public officials," said Drake University President David Maxwell. "These resources, combined with the programmatic and research activities of the Harkin Institute, will enable us to enrich the teaching and research experiences of our students and faculty in a profound manner. Equally important is the fact that they will significantly enhance our ability to fulfill the University's social compact—to serve the scholarly community, the policy community, and the public at large as a major resource for informing and improving decision-making in public policy at all levels."
Research, outreach, and programming at the Harkin Institute will provide a variety of student learning opportunities, as well as a platform for Drake's faculty and staff to enhance both research and curricular development. These functions complement Drake's commitment to fostering engaged citizenship, which it demonstrates through existing centers and programs including The Principal Financial Group Center for Global Citizenship and annual Engaged Citizen Conference.
The creation of the Harkin Institute and the availability of Sen. Harkin's historical papers and materials are fulfillments of Drake's vision and strategic plan, particularly in its commitment to serving the community.
"The papers and materials developed as a result of my four decades working for Iowa in Congress should reside in this state, the state where I was born, the state I love, the state I have sought to serve and represent. I am proud to announce today that it's my intention that Drake University here in Des Moines will be the repository for my historical papers and materials when I leave the Senate at the end of 2014. I am thrilled by the plans that Drake has, under the outstanding leadership of President Maxwell, for making use of these materials in the public interest," Harkin said.
"Drake is one of the finest institutions of higher learning in the Midwest, with a reputation for innovative thinking. I hope these materials can serve as a resource for scholars and students to bring a deeper knowledge of national issues and federal processes, as well as to further, in a nonpartisan way, the causes and policies to which I have dedicated my career in public service. I am pleased that these materials will reside here in our capital city at an institution that is thoroughly part of its own local and state community, and at the same time keenly aware of and connected to our national and international civic commons. It is my hope that this collection and the programming that is planned around it might even attract more materials or other collections in the future to build on the exciting work that is envisioned here at Drake."
"I thank President Maxwell and the Drake Board of Trustees for their interest and support in this endeavor, and I look forward to working with them as this process moves forward," Harkin said.
Research at the Harkin Institute will be guided by policy priorities that defined the Senator's public service career, including:
• The Americans with Disabilities Act and related topics
• Prevention of chronic disease, healthcare access, and reform
• Access to and improvement of education
• Federal farm policy, including Farm Bill development and soil and water conservation
• Childhood nutrition, food access, and hunger prevention
• Labor issues
• Human rights and international development
The transfer of Harkin's papers to the University will expand a rich collection that already contains the archival papers of publisher Gardner Cowles, U.S. Rep. Neal Smith, and the National Bar Association, among other prominent Iowans and organizations.
Available for interview:
• Tom Harkin, U.S. Senator
• David Maxwell, president of Drake University
Sen. Harkin's availability can be coordinated with his press office (202-224-3254). Interviews with President Maxwell can be arranged by contacting Jarad Bernstein (515-271-3119, jarad.bernstein@drake.edu).
More photos from the press conference
###
Drake University is a midsized, highly selective private university in Des Moines, Iowa. Drake enrolls more than 3,400 undergraduates and 2,100 graduate students from 49 states and about 50 countries.
Tom Harkin has represented Iowa in the U.S. Senate since 1985. He previously represented Iowa's 5th Congressional District in the U.S. House of Representatives from 1975-1985. He lives with his wife, Ruth, in Cumming, Iowa.