Drake's magazine majors will have plenty of stories to tell about how they spent their summers. From Des Moines to New York to Dallas to Kansas City, to name a few, students are putting their communication skills to work in magazine journalism, e-commerce, social media, public relations, marketing, and human resources. See the list below.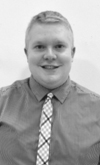 Drake senior Jeff Nelson started work this week at People magazine as part of the prestigious ASME summer internship program. The American Society of Magazine Editors each year chooses around 30 college students nationwide to work for magazines in New York City and Washington, D.C. (Follow the ASME intern blog to learn more.)
Jeff, who was editor of Drake Magazine last school year, has already had internships at Minneapolis/St. Paul Magazine and  Ladies' Home Journal. He also was a Meredith apprentice last school year, working for Meredith Xcelerated Marketing. But the gig at People holds special meaning.
"I mean, I grew up on a dairy farm," Jeff said. "My goal when I came to Drake was to work at an entertainment or pop culture title, so I'm ready to make the most of this amazing opportunity.
"I've never worked at a weekly title, so I can't wait to experience the hustle-and-bustle dynamic involved with that."
Other magazine majors with summer internships:
In Des Moines:
Hilary Abrahamson: DivineCaroline.com, editorial
Brooke Albers: BHG.com, e-commerce
Andrea Crowley: BHG.com, food
Kenzie Kramer: BHG.com, social media
Kayli Kunkel: Meredith Interactive Media, design
Raeann Langas: BHG.com, social media
Casey Morgan: Gusto Pizza Company, social media
Kateyln Philipp: Better Homes and Gardens Crafts Group, editorial
Raquel Rivera: The Integer Group, human resources
Kylie Rush: communications for Anawim Housing; marketing for Rebuilding Together Greater Des Moines!
Sarah Sager: Iowa State Fair, marketing
Linley Sanders: Meredith Special Interest Media, copy editing
Sami Smith: Fork in the Road, marketing and communications, editor of That's Forkin' Amazing
Kerri Sorrell: Iowa Natural Heritage Foundation, design
Lindsay Susla: DivineCaroline.com, editorial
Rachel Ward: Goodsmiths, editorial
Monica Worsley: Iowa Natural Heritage Foundation, marketing
Outside Des Moines:
Samantha Baker: Inked, New York
Megan Berberich: iaam.com, teen lifestyle online magazine, social media, working from home
Bailey Berg: Spirit Magazine (Southwest Airlines), Dallas
Selchia Cain: Parris Communications, public relations, Kansas City
Kristin Doherty: Seventeen, New York
Courtney Fishman: Envision Radio Networks, Cleveland, Ohio
Meagan Flynn: Texas Monthly, Austin, Texas
Susanna Hayward: BOLD Marketing, graphic design and public relations, Cape Girardeau, Missouri
Nicole Kasperbauer: Seventeen, New York
Lauren Kassien: Shawnee Mission Medical Center and YMCA, public relations/marketing, Kansas City
Stephanie Kocer: Rochester Magazine, Rochester, Minnesota
Erin McHenry: CookingChannelTV.com, New York
Luke Nankivell: Quad City Times, photographer, Davenport, Iowa
Lauren Turner: Woman's Day, New York
Leah Walters: Splash Magazine, a Chicago Sun-Times publication, Chicago
Not on the list? Leave a comment. We would love to hear from you!