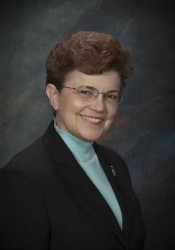 The Institute for Study Abroad, Butler University (IFSA-Butler) has selected Eunice Merideth, Levitt Distinguished Professor and associate dean in the Drake University School of Education, to be a member of the National Teacher Education Advisory Committee. The committee seeks to provide teacher education students more opportunities to study abroad and interact with students in international schools.
"Teacher education students often have a hard time scheduling study abroad experiences because they have many education courses as well as endorsement and general education courses to take," says Merideth. "The focus (of the IFSA-Butler) is to make connections with teacher education programs globally that will allow students to take education courses in an international setting and to interact with schools and school children internationally."
Merideth was asked to be a member of the committee by Opal Leeman Bartzi, the current field director of the IFSA-Butler. The members of the committee are asked to provide input on new program development as well as provide recommendations for current international education programs. Merideth is currently working with Stransmillis University College in Belfast, Northern Ireland, and has been asked to review a potential program at the University of Otago in Dunedin, New Zealand.
For more information, contact Eunice Merideth at 515-271-2599 or eunice.merideth@drake.edu.
About Eunice Merideth
Eunice Merideth currently is a Levitt Distinguished Professor and serves as the associate dean of the Drake University School of Education. In addition to being associate dean, Merideth is the assessment officer and LiveText coordinator for the School of Education, integrating a variety of technology assessment functions for the past nine years. Merideth, a 24-year veteran of Drake University, has also published two books and 44 articles on a range of educational topics in instructional methodology and curriculum, educational technology, teacher leadership, and educational equity.