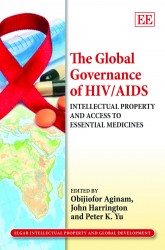 Peter K. Yu, professor of law and Kern Family Chair in Intellectual Property Law at Drake Law School, recently published The Global Governance of HIV/AIDS: Intellectual Property and Access to Essential Medicines, with Edward Elgar Publishing. The book brought together leading scholars from multiple disciplines, including intellectual property, human rights, public health, and development studies.
The book is the product of a multi-year research project conducted by the Drake Intellectual Property Law Center, the Institute for Sustainability and Peace at the United Nations University in Japan, and the Institute for Medicine, Law and Bioethics at the University of Liverpool in England. The book was co-edited with Obijiofor Aginam, senior academic officer of the Institute for Sustainability and Peace at the United Nations University in Tokyo, Japan, and John Harrington, professor of law at Cardiff University in the U.K. and senior research fellow at the British Institute in Eastern Africa in Nairobi, Kenya.
"This is an important, innovative and, at times, controversial collection, investigating the legal, political and economic determinants of access to essential medicines," says Bryan Mercurio, associate dean of research in the Faculty of Law at the Chinese University of Hong Kong.
With a focus on HIV/AIDS governance, this edited volume provides an analysis of the international legal and political landscape, the relationship between human rights and intellectual property, and emerging issues in global health policy. The book also explores the impact of high international intellectual property standards on access to essential medicines in developing countries. It concludes with strategies for improving access to HIV/AIDS medicines. Thus far, the book has garnered advance praise from leading scholars in the field.
About Peter Yu
Born and raised in Hong Kong, Yu is a world-renowned expert in international intellectual property law. He serves as the founding director of the Drake Intellectual Property Law Center, which has been ranked by peers among the top 15 intellectual property law programs in the United States and one of the top three in the Midwest.
Yu is an award-winning teacher and a prolific scholar. He is the author or editor of five books and more than 100 law review articles and book chapters. Yu recently completed an article on intellectual property issues related to the viruses responsible for AIDS, SARS, and the avian influenza (H5N1). He has delivered lectures and presentations in more than 25 countries, and his scholarly publications have appeared in nine languages. He currently serves as the general editor of the peer-reviewed WIPO Journal, published by the World Intellectual Property Organization.