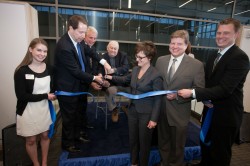 On Thursday, April 25, the College of Pharmacy and Health Sciences at Drake University hosted a grand opening for the Morgan E. Cline Atrium for Pharmacy and Science. Administrators, faculty, staff, students, and friends joined together to celebrate the new facility and recognize the donors who made it all possible.
Funding for the building came from a number of gifts to distinctlyDrake, including a lead gift from
 Morgan E. Cline. Cline gave $3 million to create the new two-story facility between Harvey Ingham Hall and Cline Hall of Pharmacy and Health Science. The new facility includes a student learning commons, faculty offices, and an experiential learning suite. This is the second building named in honor of
 Cline, who graduated from Drake College of Pharmacy and Health Sciences in 1953, and is one of the founders of Cline, Davis & Mann, a New York advertising 
agency specializing in pharmaceuticals. Additional contributing gifts were from Hy-Vee, Inc. and the Roy J. Carver Charitable Trust.
"The
 success of the College and our graduates is predicated by the generosity and engagement of
alumni such as Morgan Cline," says Raylene Rospond, dean of the College of Pharmacy and Health Sciences (CPHS). "The commons will provide students with the ability to extend their learning outside the classroom and to develop important critical skills."
Over the years, Cline has been an active Drake alum. He previously served on the Drake University Board of Trustees and has been a 
major benefactor to the University, endowing a scholarship fund for pharmacy 
students with a $5 million gift in 2001.
"The Cline Atrium has reminded students the importance of giving back. The professional and personal communication that takes place in the atrium on a daily basis is a true reflection of the exceptional and collaborative learning environment that Drake strives to establish," says Mitchell Webster, CPHS student. "Students use the advanced electronic media to streamline communication while working in groups and really have enjoyed being able to conveniently meet with professors in the new office spaces."
More than 100 people were in attendance at the grand opening including: Morgan E. Cline; Bob Egeland, vice president of pharmacy for Hy-Vee; and Troy Ross, executive director of the Carver Trust and Lynne Sasmazer, program director of the Carver Trust. Drake University President David Maxwell, Board of Trustee members, and CPHS National Alumni Council members were in attendance along with faculty, staff and students.