When Chris Parrish finished his Broadcast News studies in May 2005 he shot and edited sports content for Championship Productions in his hometown Ames. Little did he imagine eight years later he'd be on duty as a line producer at WHDH-TV when two bombs ended the Boston Marathon.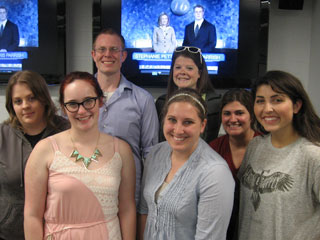 Parrish told the JMC173 Broadcast Reporting class WHDH was prepared to lead the coverage because that's what their audience has come to expect on Big Stories from the NBC affiliate. It started as a slow news day. But then he spent the next 4 1/2 hours in the control room, assisted by several executive producers, many reporters and photographers, and the latest reporting gear.
"It was an exhilarating moment … especially when we learned the president was watching us (in the Situation Room) during the key moments," he wrote a week prior to his class visit.  "We even received a lot of emails thanking for us for our coverage."
Parrish joined WHDH in 2010 following four years producing newscasts for ABC5, Des Moines.