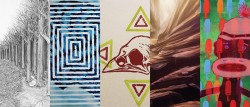 The Anderson Gallery at Drake University will host Figmentation, a thesis art exhibition, featuring the work of Drake students Megan Ault, Kate Foster, Andrea Piekarczyk, Garrett Roskam, and Stephanie Werning. The exhibit, which is free and open to the public, will run May 3–17. An opening reception will be held on Friday, May 3 from 5–7 p.m. in the Anderson Gallery, during which the artists will be available to discuss their work and answer questions.
The exhibition represents the culmination of the pursuits of the Bachelor of Fine Arts and Bachelor of Art students, and features recent work in drawing, printmaking, painting, and graphic design. Although the students have fairly disparate inspirations for the creation of their work, they have chosen a collection of pieces that all relate back to the theme of Figmentation, reflecting each artists' efforts to give form to the immaterial that lies between invention and reality.
Megan Ault, a senior from Galena, Ill., is finishing her B.A. in graphic design with a minor in painting. Megan will feature work inspired by her experiences with relationships and social interactions.
Kate Foster, a senior painting major from Des Moines, Iowa, will feature work, primarily paintings, that explore the physical and biological brain, while examining the more abstracted inner workings of the human mind.
Andrea Piekarczyk, a senior drawing major from Downers Grove, Ill., uses a postmodernist approach and a traditional illustrative style. Her work studies the intersections between written and visual communication, and it expresses subversive social and political themes.
Garrett Roskam, a B.F.A. student in drawing from Wichita, Kan., will be exhibiting work that seeks to tell a story without necessitating explicit description. His work aims to give a full vision of places that no person has visited.
Stephanie Werning, a senior graphic design student from Lincoln, Neb., aims to translate abstract ideas into visual designs through engagement and research.
"I believe that graphic designers may discover powerful design solutions by interacting with their physical and social environments," Werning says. "The greatest visual solutions transpire from forming an intellectual and artistic relationship with the essence of that which we must communicate."
Werning will graduate in May with her B.F.A. in graphic design, a B.A. in English, and a minor in printmaking.
About the Anderson Gallery
The Anderson Gallery was established in 1996 as a dedicated space for the exploration of contemporary art and design. Additionally, the gallery hosts curated exhibitions of historically significant work, as well as annual showcases of student work from the Department of Art and Design. The gallery is a not-for-profit branch of the College of Arts and Sciences at Drake University, occupying a versatile 1800 sq. ft. space on the first floor of the Harmon Fine Arts Center.
The Anderson Gallery is open six days a week: Tuesdays, Wednesdays, and Friday through Sunday, 12–4 p.m.; and extended hours on Thursdays from 12–8 p.m. The gallery is closed on Mondays and during University holidays. Visit www.artsci.drake.edu/andersongallery for additional information or call 515-271-1994.