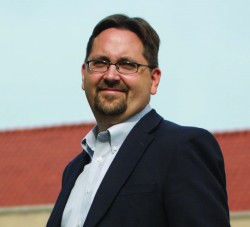 Drake University Department of Philosophy and Religion presents the 2013 Harriet Drake Kirkman-Hay Memorial Lecture, "Christianity and Mystical Experience," by L. Roger Owens. The lecture will be held on Monday, April 22 at 7:30 p.m. in the Cowles Library Reading Room, 2725 University Ave. This lecture is free and open to the public.
Owens, preaching pastor of Duke Memorial United Methodist Church in Durham, N.C. and visiting instructor at Duke Divinity School, will deliver the lecture, which addresses the mystical experience of Christianity. Owens questions, "What does a Christian mystical experience mean?," suggesting that for it to be understood as an experience of God, it must be no kind of "experience" at all.
Owens received his Ph.D. in theology from Duke University. He is the author of The Shape of Participation: A Theology of Church Practices, and co-editor of Wendell Berry and Religion: Heaven's Earthly Life. His writing has appeared in several publications including The Christian Century, Currents in Theology and Mission, and The Journal of Religious Ethics. His most recent book is Abba, Give Me a Word: The Path of Spiritual Direction.
The lecture is sponsored by the Department of Philosophy and Religion. For more information contact Tim Knepper at 271-2167 or email tim.knepper@drake.edu.