Update: Shalini Kantayya's film "A Drop of Life" screeened March 12 at Drake University. She will show the film again as part of a free public lecture titled, "a DROP of LIFE: A Filmmaker's Journey Inside the Global Water Crisis," which will be held 5:30 p.m. Wednesday, March 27, in Harvey Ingham Hall, Room 104. See the original news release below for details.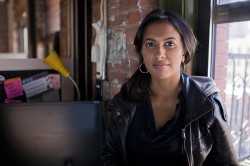 Drake University will screen a futuristic science fiction film about the world water crisis this month in advance of a lecture by the filmmaker.
"A Drop of Life," a 16-minute short film by Brooklyn-based filmmaker Shalini Kantayya, will screen at 7 p.m. and 8 p.m. Tuesday, March 12, in Sussman Theater, Drake University Olmsted Center. Kantayya's lecture, presented by the Hawley Foundation, will begin at 5:30 p.m. Wednesday, March 27, in Harvey Ingham Hall, Room 104. Both the screenings and the lecture are free and open to the public.
Kantayya's work focuses on human rights at the intersection of water, food, and energy. She is an alumna of the TED Fellow program, which brings together young innovators from around the world to amplify the impact of their projects. She created "A Drop of Life" to educate and inspire viewers about the more than one billion people in the world who lack access to clean water. The film was used as a tool to organize for water rights in 40 villages across Africa.
"Kantayya's position as a filmmaker, educator, and eco-activist ties into the interdisciplinary nature of Drake's honors program," says Drake University Honors Student Council member Maria Hanson, a sophomore drawing and rhetoric double major. "There are several courses this semester that fit into the subject of Kantayya's work, including [Associate Professor of Philosophy] Jennifer McCrickerd's environmental justice class. We feel Kantayya's talk will generate interest from a variety of students."
Kantayya's feature-length screenplay, Dark Tide, is a finalist at the Mumbai Mantra | Sundance Screenwriters Lab. She won best documentary at the Asian American Film Festival for her film "Manthan", and is currently working on a feature-length documentary called "Solarize This."
The film screening and Hawley Foundation Lecture are presented as part of the Drake University Engaged Citizen series, which this year focuses on the theme of sustainability, climate change, and the new green revolution. The Drake University Honors Program and Honors Student Council are sponsoring the lecture, which has been featured annually at Drake since 1995. The Hawley Foundation is a civic program to help benefit the Des Moines community without bias toward any affiliation.