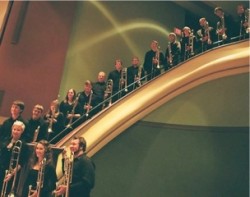 In celebration of an upcoming tour in Washington, D.C., the Drake Trombone Choir (DTC) will play an on-campus concert. This free pre-tour concert will be held on Wednesday, March 13 at 7:30 p.m. in Sheslow Auditorium, 2507 University Avenue. On March 21, just eight days later, the DTC will perform at the Eastern Trombone Workshop in Washington, D.C. This workshop is the nation's largest annual trombone festival and the Drake group will be the first Iowa trombone ensemble to perform at this highly renowned festival.
The ensemble is under the direction of Grady McGrannahan, assistant professor of music, and consists of 17 Drake music students.
The ensemble's pre-tour concert includes all original works written specifically for the group. William P. Dougherty, professor of theory and composition at Drake, has written a special fanfare for the trip. Additionally, the program will also include works by Drake music education and performance major Bryan Hummel, who has written a piece entitled "Somewhere in My Imagination," a work utilizing themes from the movie, "Willy Wonka and the Chocolate Factory," as well as "Somewhere Over the Rainbow." Other works include McGrannahan's transcription of "Amazing Grace," among others.
The Washington D.C. performance will be streamed live on Thursday, March 21 at 5:15 p.m. Central time at: www.usarmyband.com/video/live_video_broadcast_page.html
About the Drake Trombone Choir
The Drake Trombone Choir gave its inaugural performance in spring 2008. Since that time, the ensemble has performed at several area churches and has worked with leading professional trombonists such as Peter Ellefson, M. Dee Stewart, Weston Sprott, and Randall Hawes.
The premiere performance at the Eastern Trombone Workshop will allow Drake music students to be heard on a national level. The performance marks the first national performance by a Drake instrumental ensemble in a number of years.