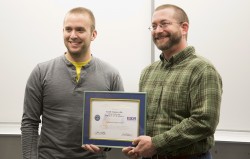 A faculty member with a well-earned reputation for exceptional work with students can now add a Department of Defense award to his list of honors. The Iowa Committee for Employer Support of the Guard and Reserve recently delivered its Patriot Award to Keith Summerville, associate dean of the College of Arts and Sciences and associate professor of environmental science and policy.
The award recognizes supervisors who provide extraordinary support to employees who serve in the Iowa National Guard and Reserve. Andrew Rupiper, Summerville's research assistant of two years, nominated him for his dedication to accommodating students' needs—including those in the armed forces.
"When I went into active duty for eight weeks during the fall semester, Keith put forth a true effort to ensure that my transition in and out of active duty was seamless," Rupiper says. "I never imagined that a professor would make such an effort to really understand the challenges of a student and military member."
Summerville, who has worked at Drake since 2001, became a university professor because of a personal commitment to connect undergraduate students with the natural world. He is the recipient of several awards for exceptional work with students at Drake, including the 2011 Madelyn Levitt Teacher of the Year award, which recognizes the Drake faculty member who best demonstrates excellence in teaching, inspirational leadership and intellectual rigor.
Summerville says he is committed ensuring that Drake's military veterans and active-duty personnel are able to fulfill their commitments to the government while still completing their academic studies.
"As the U.S. draws down troop levels in Iraq and Afghanistan, institutions of higher education are going to have to deal with issues related to making campuses more accessible to veterans," Summerville says. "It means a lot to me to be recognized for just that, for helping to make Drake's campus more accommodating."